The Kindness of Strangers II
The Kindness of Strangers II
Ayvalik, Turkey
We arrived in Ayvalik, a harbour town in the north Aegean, in a strong 25 knot breeze. The forecast was for the wind to increase further, and it delivered, whistling and booming around the boat throughout the night. The following morning we agreed to sit out the weather, deciding it was a good opportunity to get some laundry done. The four of us piled into the dinghy (the ship's dog is getting more confident with the small craft every day) with our laundry bags and headed for shore through the choppy harbour water.
Ayvalik is a busy town; the centre of which is a bustle of narrow streets lined with colourful shopfronts and market stalls. We looked like three homeless blokes and a dog, wearing our outdoor gear and carrying our worldly goods in rubbish bags. Few people have pet dogs in Turkey (see 'The Dogs of Istanbul'), so our furry companion and slightly disheveled looks turned a few heads.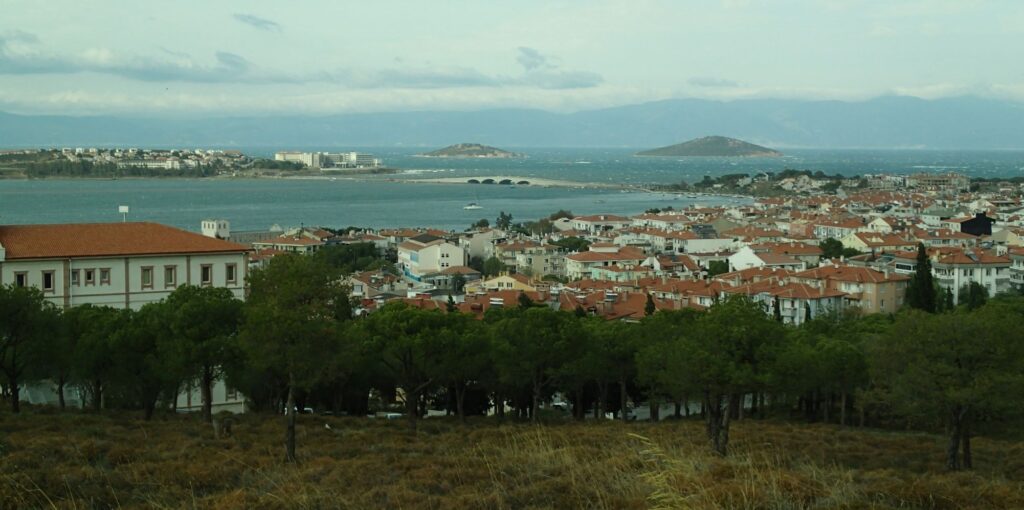 We went deeper into the maze of streets, stopping frequently so our Skipper could consult the direction app on his phone. We thought we must have been pretty close to our destination when a man in his sixties approached us. Obviously foreign and lost, the man asked us 'Sprechen sie Deutsch?' Our German crewman answered, and explained our quest. The man thought for a moment, and then started to give us directions. Then he paused, and said what I assumed to be 'follow me'.
We followed like a little conga line of hobos through the winding streets until we arrived at what looked like a dry-cleaners. An English to German to Turkish to German to English conversation ensued, and even though it was apparent that the shop didn't usually wash and dry laundry for people, with the help of our new found friend they agreed to do it.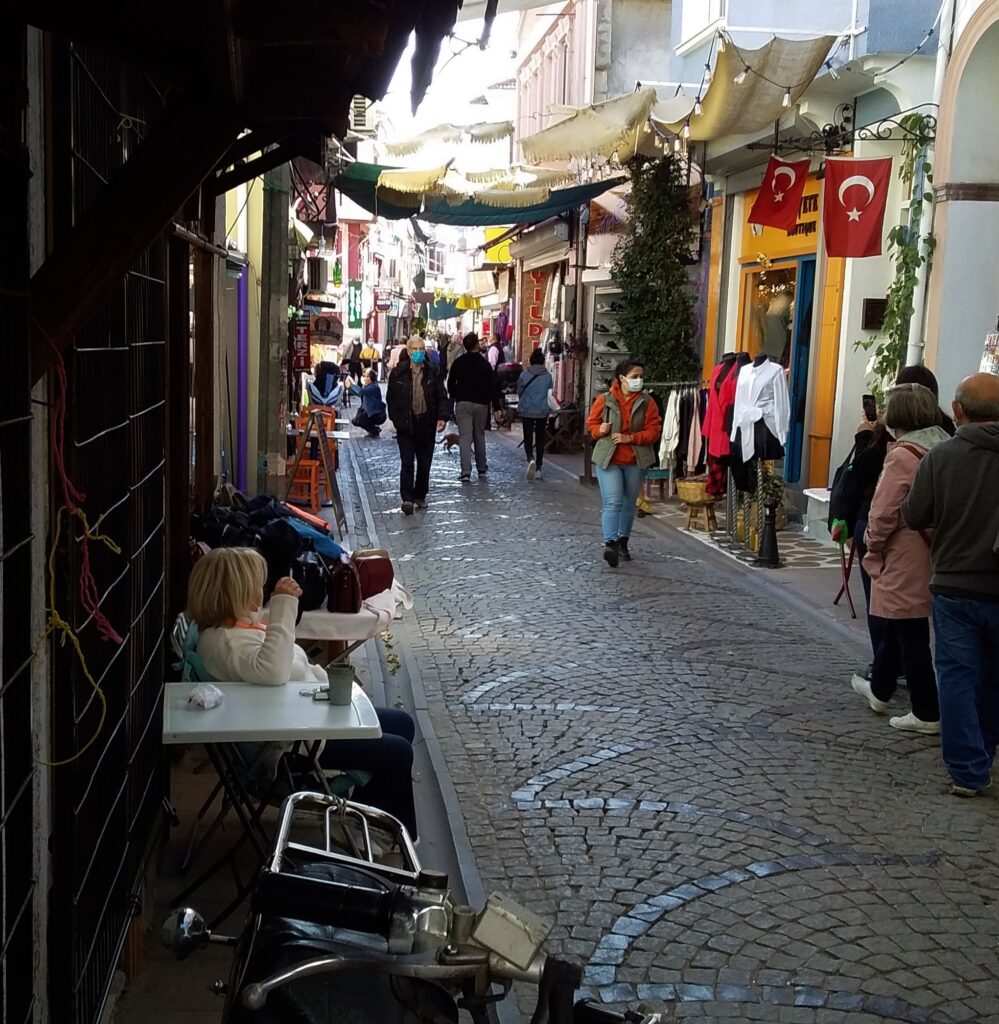 Outside the shop we thanked the local man, whose name was Semih, for his help, and he promptly asked us to his office for tea. I got the feeling he liked speaking German (and that our German crewman was relieved not to have to speak English for a while), and enjoyed chatting to visitors from abroad. We followed him to his little office, which occupied a small space in the downstairs of his home. His business partner looked a little surprised when three strangers and a dog suddenly showed up, but he quickly made space for us. Semih's wife appeared with small glasses of scalding tea, and he happily chatted and chain smoked as the Skipper and I dredged our memories for scraps of schoolboy German.
It turned out that Semih was born in Germany, of Turkish parents, and had moved to Turkey later in life. After tea he asked us where we were headed, and when we mentioned lunch, he offered to take us to the locals' favourite spot.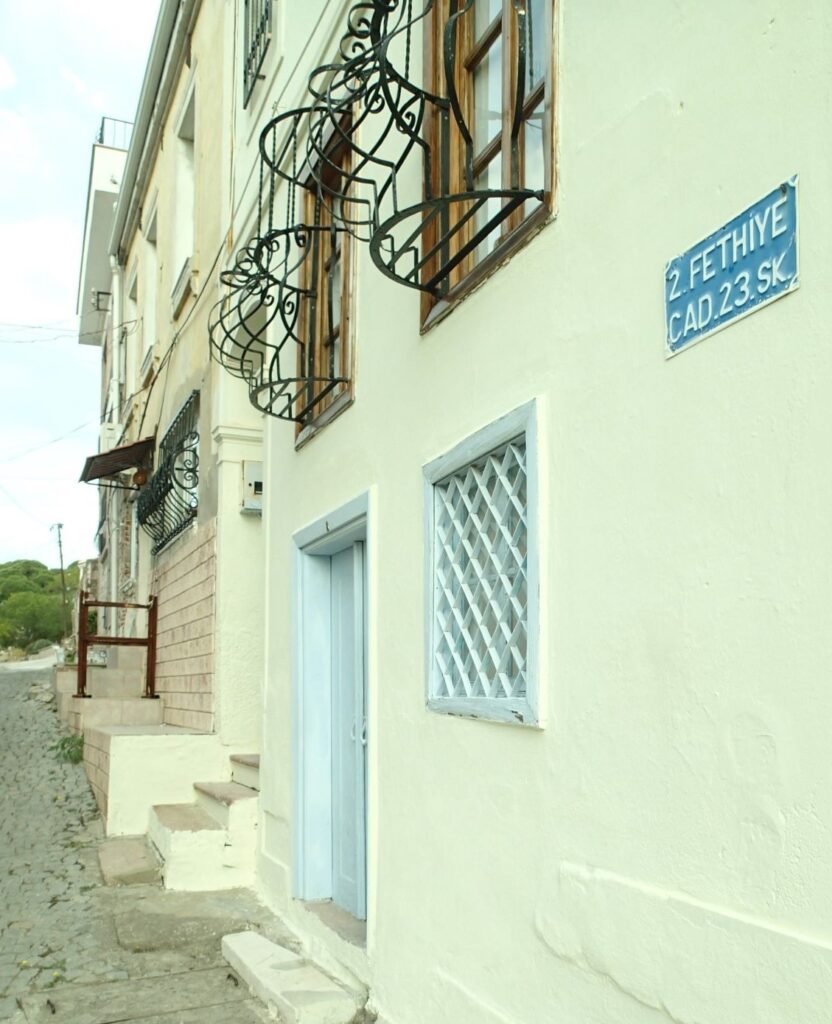 We set off again, relieved of our heavy laundry bags, following Semih (who stopped at a tobacconist so he could help us find rolling tobacco) until we arrived at a tiny cafe in a small courtyard. Ushered inside, we picked from the selection of salads and goodies behind the glass counter. Semih joined us at our little table, chatting and smoking as we ate and refusing multiple invitations to share our food: 'No…this is for you.'
After our delicious meal Semih gave us his business card, just in case we needed anything during out stay in Ayvalik. He asked what we had planned for the afternoon, and we told him we felt like a wander around town. Leading us once more, he showed us the way to a local museum, then bid us farewell. We thanked him for his kindness and hospitality, and with a wave he disappeared into the busy streets.
The Skipper told us that the Turkish people readily go out of their way to help visitors to their country. They are a proud nation, and seem to have a genuine desire for those who come to Turkey to have a safe and enjoyable time. Semih definitely made our visit to Ayvalik memorable, making sure three strangers and a dog felt welcome in his town.
For more on Ayvalik click here
If you liked this post, you may also like The Kindness of Strangers, Sleeping Bag
Know someone who might like this post?