Sleeping bag
Sleeping bag
I bought my sleeping bag way back in 1998, shortly before buying a four-wheel drive and heading off on an around Australia adventure. It was the best I had ever owned, lightweight and toasty warm and made in Australia. For over twenty years my sleeping back kept me snug and warm on hikes, four-wheel drive and remote motorcycle trips, overseas adventures, and just crashing on a mate's couch. It had a few minor repairs over the years, and a little extra down added once or twice to fluff it back up again. However, since leaving for my odyssey, I had found that it was no longer warm enough to ward off icy mountain temperatures. I expect the down had lost its insulating ability; it now felt clumpy and sparse inside the shell.
After a couple of chilly nights in the Rila Mountains in south-western Bulgaria I decided something had to be done. I contacted several camping stores when I reached Sofia, and asked if they could add some extra down to my sleeping bag. The stitching on the nylon shell was a little frayed in parts, but I thought it could stand up a little longer. I found out that no-one offered camping gear maintenance in Sofia; in fact no-one had heard of adding down to a bag at all. After deliberation, I decided the time had come to replace my trusty sleeping bag.
After breakfast one morning I got ready to walk the 6km to the camping store on the outskirts of Sofia's CBD where I hoped to find a suitable replacement. Out of the corner of my eye I saw my sleeping bag sitting on the lounge, bound up tight in its red stuff sack. I looked away. I felt like I was betraying a friend.
The camping store had a bewildering array of options, and I couldn't make a decision there and then. I took away all the information I had been given, and decided to sit down when I got back to the apartment and try to figure out the best choice. I also had another issue to deal with: what to do with my old sleeping bag.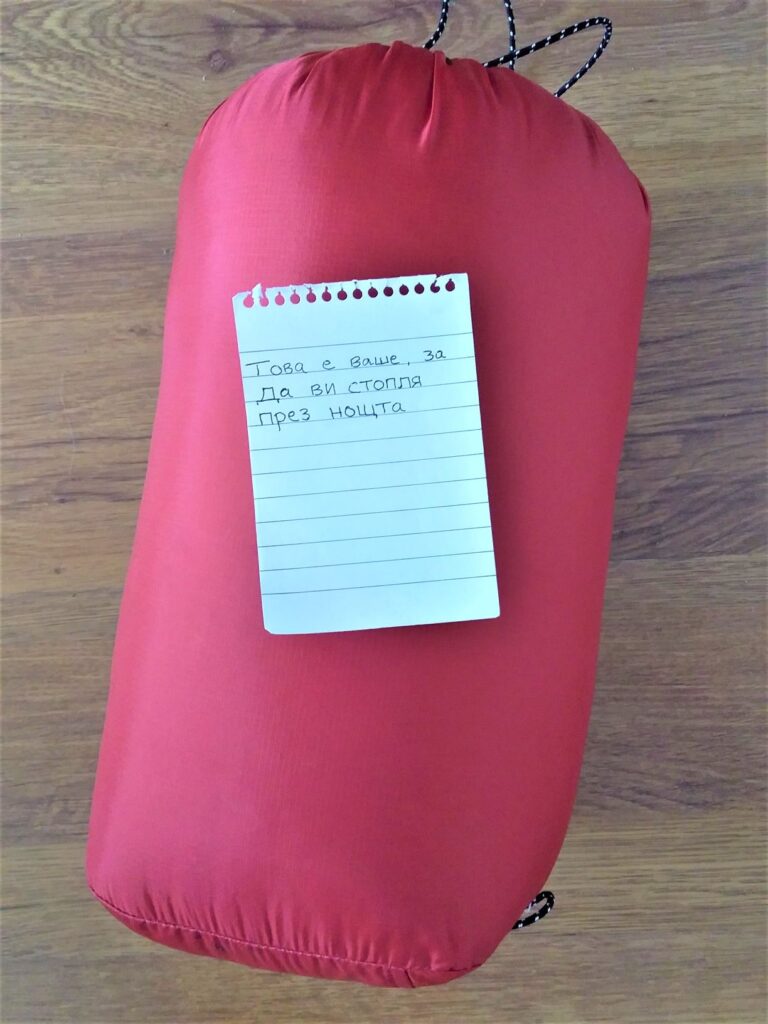 From my walks around Sofia I had noticed quite a lot of homeless people in the parks and public areas. I decided that I would donate my bag to someone sleeping rough. Sure, it wasn't as warm as it once was, but with an additional blanket or heavy coat it would be adequate for the Sofia winter. Being unable to speak Bulgarian, I used a translation app to write a note saying 'It's yours to keep you warm at night', and taped it to the stuff sack.
Trying to keep my mind on something else, I pushed my sleeping bag into my backpack, grabbed my keys, and headed out of the apartment. Even though I hoped it would continue to keep someone comfortable at night, I felt like I was taking a loyal and trustworthy pet dog to be put down.
I walked around the parks near my flat, and for the first time didn't see any homeless people. I quickly reminded myself that this is a good thing, but it did leave me wondering what I was going to do with my sleeping bag.
I walked to a spot in City Park where I had seen a camp a day or so ago. There was no-one there, but I did spot a collection of belongings under a tree. A couple of small suitcases and various other items were neatly stacked, partially hidden by branches. Perhaps I could just leave my sleeping bag there, with its note attached? But what if the owners already had enough sleeping gear? Would my sleeping bag end up being left behind under the tree when the owner moved on? I couldn't bear the thought. The only thing worse than having to take your dog to be put down would be tying it to a tree in a park and walking away. I left City Park with my sleeping bag still tucked into my backpack.
I ended up walking around many Sofia's parks for two hours, and found no-one to donate my sleeping bag to. Then, having just passed a metro station, I saw a large bin for clothing donations. I walked up to it, and saw that it included clean bedding on its list of accepted items. It wasn't as personal as I had hoped, but I was out of options. I would have to trust that the charity would respect my sleeping bag, and make sure it ended up with someone who needed it. I unzipped my backpack and pulled out my sleeping bag, my eyes welling up. Pulling down the handle, I placed my sleeping bag in the cradle, and slowly closed the door. The bin was empty, and my sleeping bag thudded to the bottom. I turned away into the Sofia night, tears running down my face.
You may be wondering why I was crying. A sleeping bag is an inanimate object after all. I was wondering the same thing as I walked slowly back to my apartment. Well, a good sleeping bag is a good friend, and looks after you when you are most vulnerable to the elements. There is nothing better than knowing, as darkness falls and the temperature drops, that you can climb into your sleeping bag and be warm all night. However I realised there was more to it than this. My sleeping bag represented adventures past; fantastic times in my life before things started to unravel. Leaving it behind was also letting go a tangible link to these times, and it hurt.
I returned to the camping store the following day and bought the new sleeping bag I had decided upon. My old sleeping bag was gone but not forgotten, likewise my past life when I felt fulfilled and content. Perhaps I will feel this way again, accompanied by my new sleeping bag on future adventures.
If you enjoyed this post, you may also like Apricots, The Simple Things
Know someone who might like this post?