A Walk in the Black Forest
A Walk in the Black Forest

The Black Forest. The name conjures images of dark, mysterious mountain woods, inhabited by wild animals and supernatural creatures straight from the pages of classic fairytales. It had been a while since I'd been camping and hiking, and since I was in the neighbourhood, I thought I'd spend some time exploring this place of legends.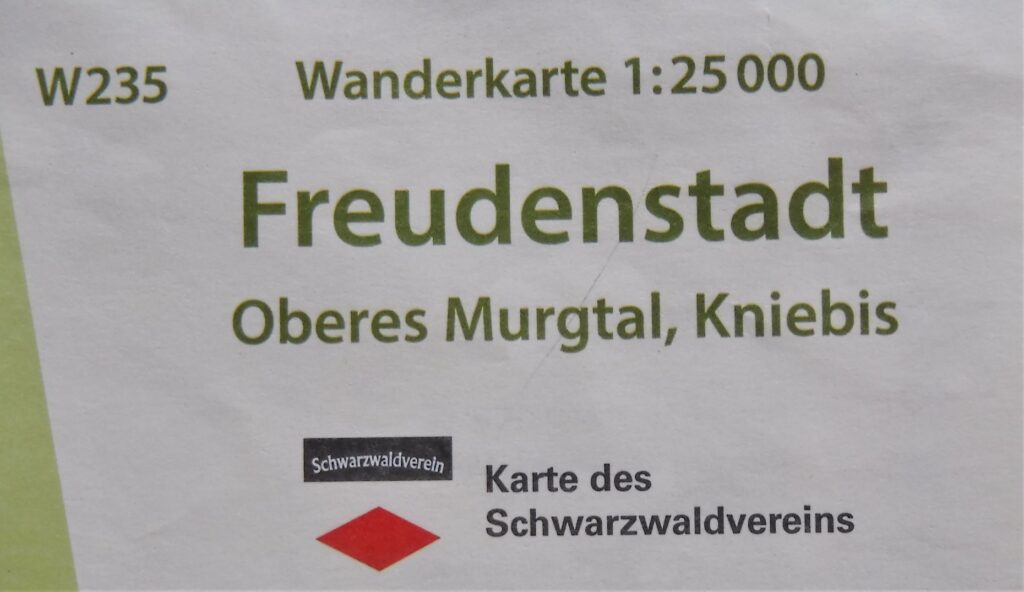 After picking up the hiking map I needed from Stuttgart city centre, I headed back to the hotel for an afternoon of planning.
Have wanderkarte will wander
This proved to be more challenging than I thought, as when I opened up the map it was a massive spider's web of multi-coloured tracks looping and zig-zagging across the whole area.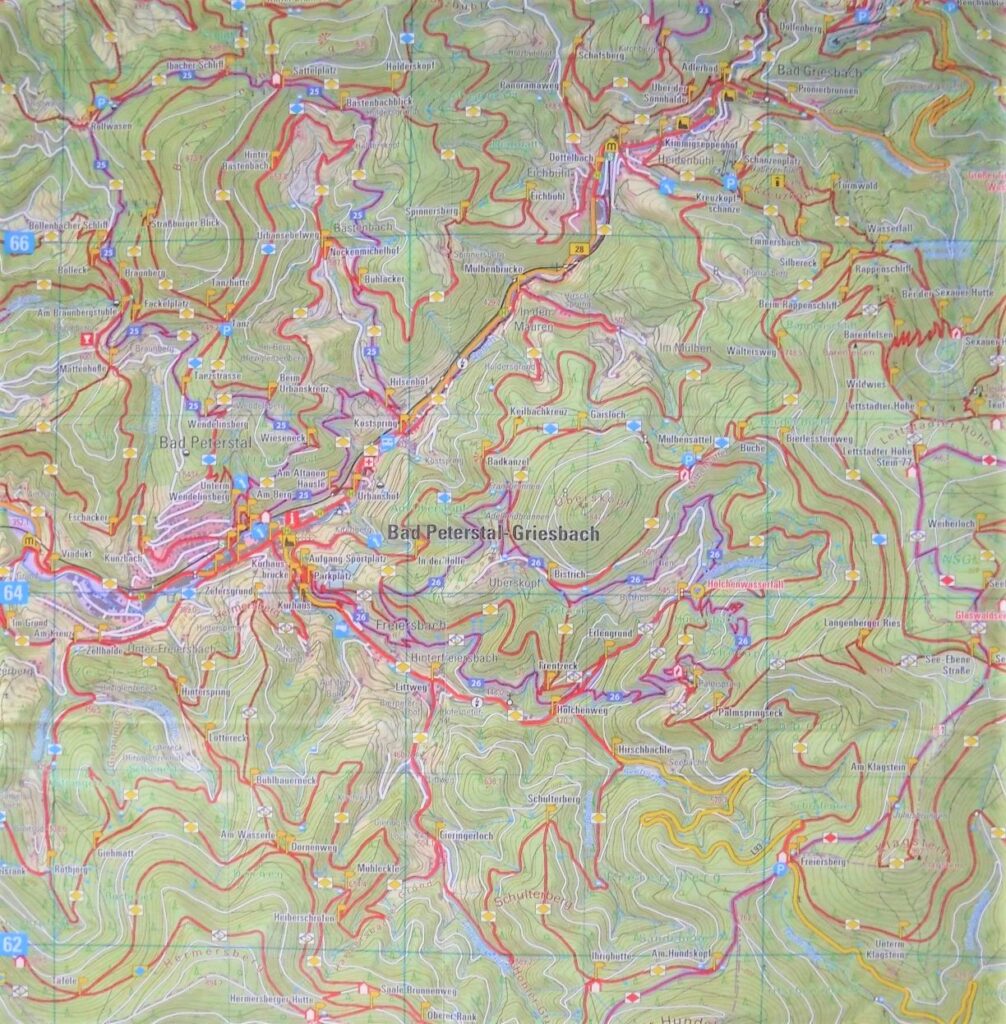 Turns out there are 24,000 kilometres (yes you read that right, twenty-four thousand kilometres) of walking tracks in the Black Forest. I spent a confusing couple of hours trying to figure out a route, then gave up and decided to wing it when I got there. I had settled on a starting point, so even thought that wasn't much, it was something.
Cripes!
After picking up my hire car the following day I headed out of Stuttgart and south-west towards the Black Forest. I had a few false starts as the on-board navigation system was in German, and I was being sucked onto a freeway before I realised it. (Interestingly, the system switched to English a few days later, totally without any imput from me.) Still, by early afternoon I was parked up at the starting point of my walk.
I spent the remainder of the day sorting and packing my gear and food ready for my three day hike. Late in the afternoon I heard a rustle in the leaf little nearby and I turned to see the little white face of a stoat looking at me. He had popped out of a hole amongst the leaves and twigs to see what was happening in his neighbourhood. After staring awhile with his little black eyes he disappeared again. Shortly after a hare galloped by. I tell you what, the Black Forest was really delivering on the wildlife and I hadn't even started the walk!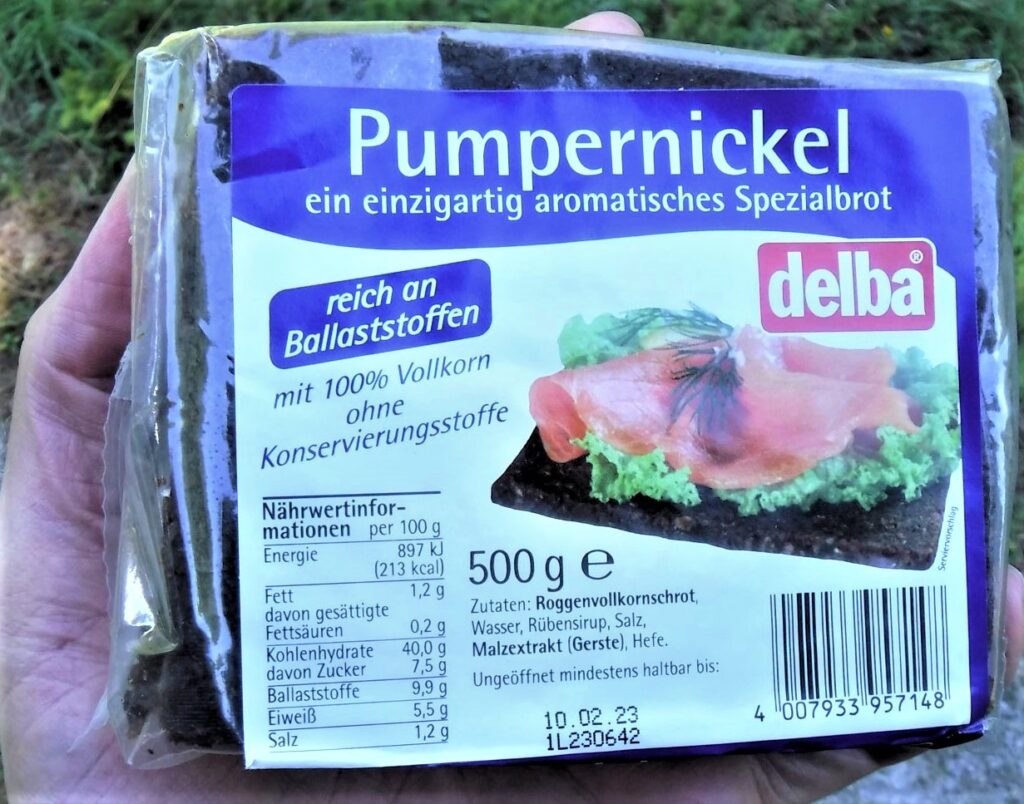 What do you take with you on a walk in the Black Forest? Pumpernickel of course!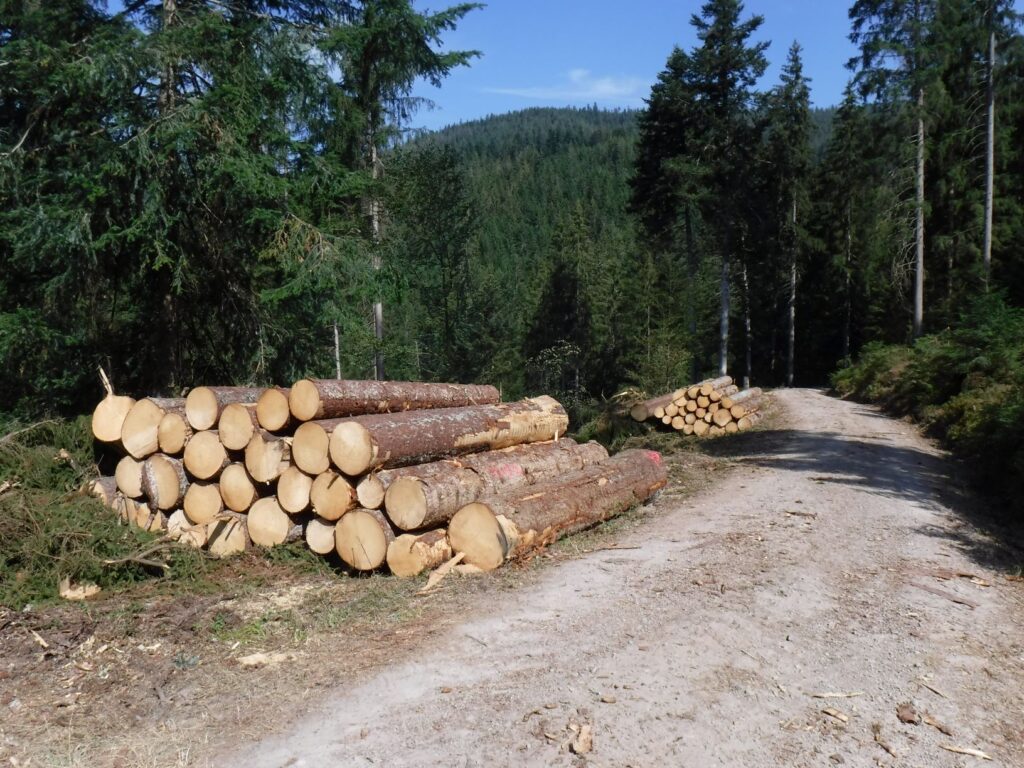 Next morning I headed off with my gear and half-kilo brick of 'uniquely aromatic special bread' for three very enjoyable days on the hoof. Walking the Black Forest takes you on a variety of trails, from broad unsealed forestry vehicle roads…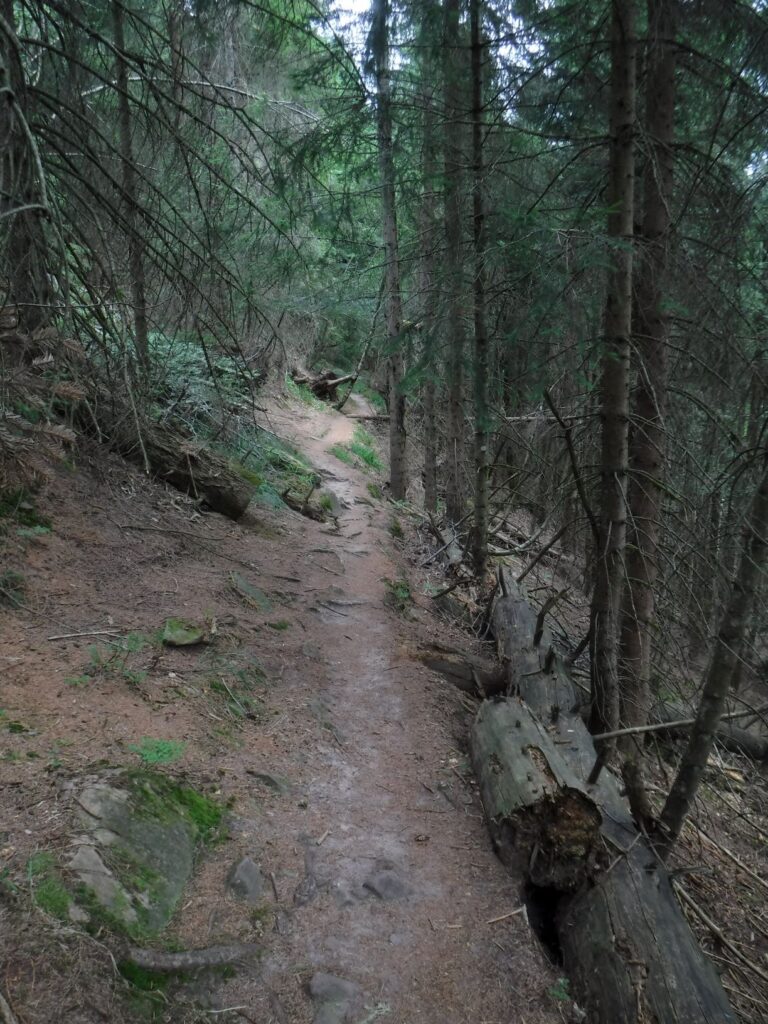 …to well formed and walking paths, and single tracks deep in the bush.
I was keen to get as 'wild' as the Black Forest would allow, so tailored my walk as best I could to include mostly unmaintained foot tracks.
'Why do they call it the Black Forest?' 'Coz it's bloody dark in there mate that's why.'
The Black Forest has been walked, hunted and harvested since way before Hansel and Gretel got abducted, and along the tracks you come across these cool old markers and signs.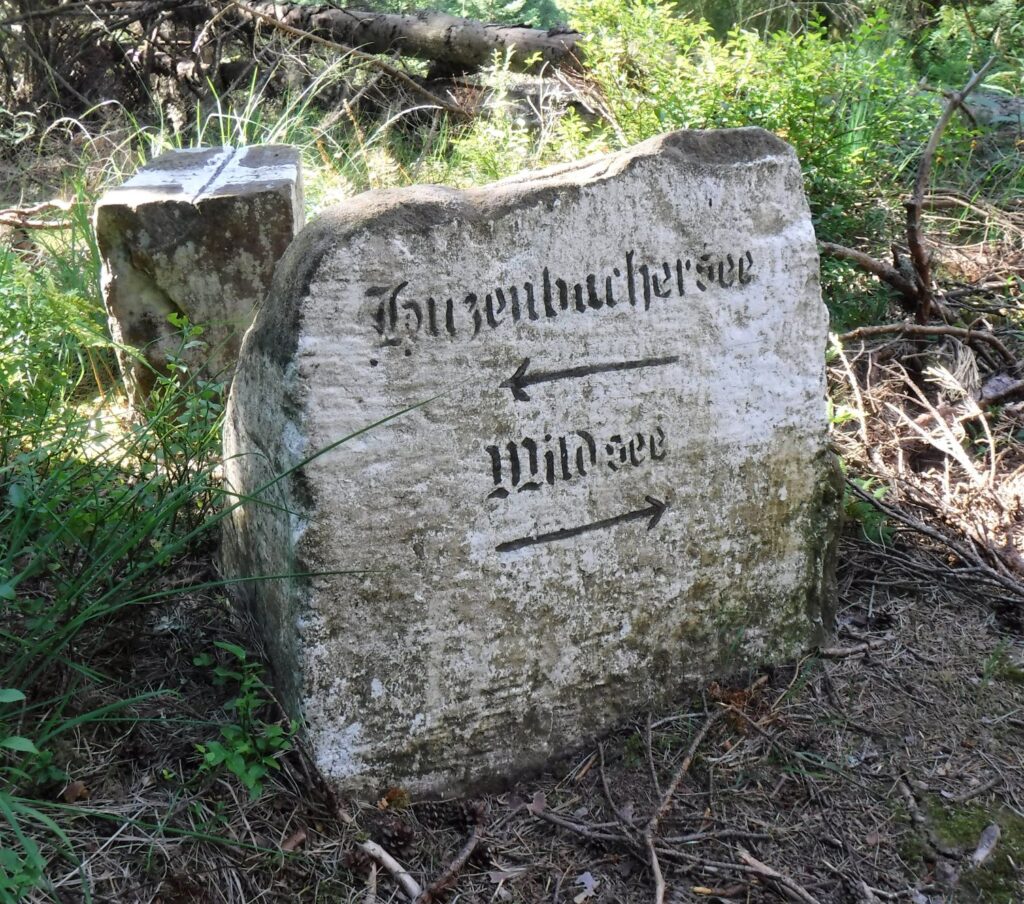 Sometimes they sit alongside the new signs, which are ubiquitous throughout the maze of tracks. Although the intersections are sometimes intially confusing, the track marking is very thorough, and you can't go too far wrong. Like most of Europe, if you aren't sure where you are, just walk a kilometre in any direction and you'll run into someone, or a sealed road, a house, perhaps a small village, or maybe a city of several million people.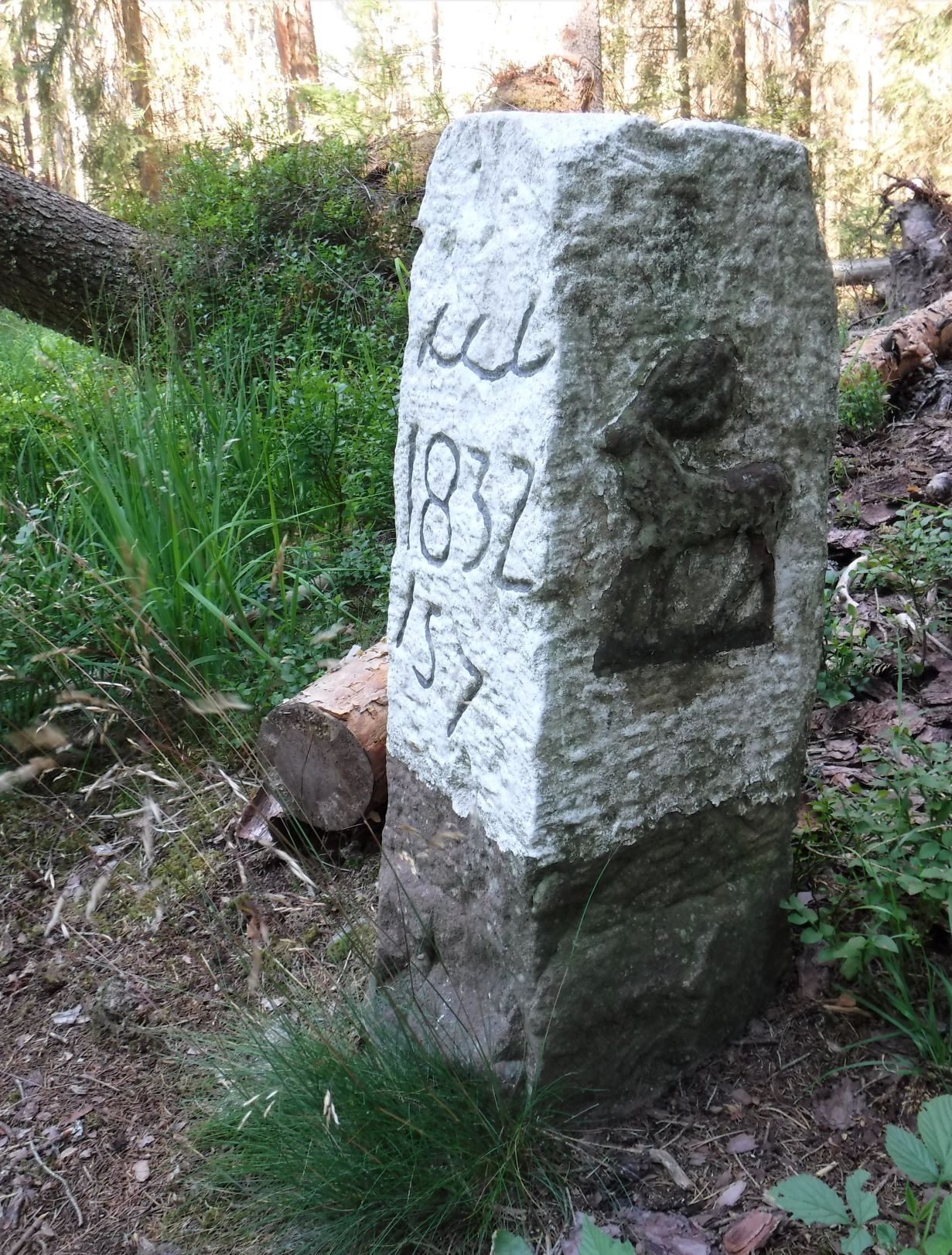 Occasionally you come across a small, basic timber hut, presumably installed as a shelter for hikers. Or built by witches. One of the two.
A real highlight of a walk in the Black Forest are the tarns, or glacial lakes, that occur through the region. They are spectacular, peaceful, mysterious and beautiful. I was fortunate enough to arrive at each of these forest jewels when there weren't many, or any, people around.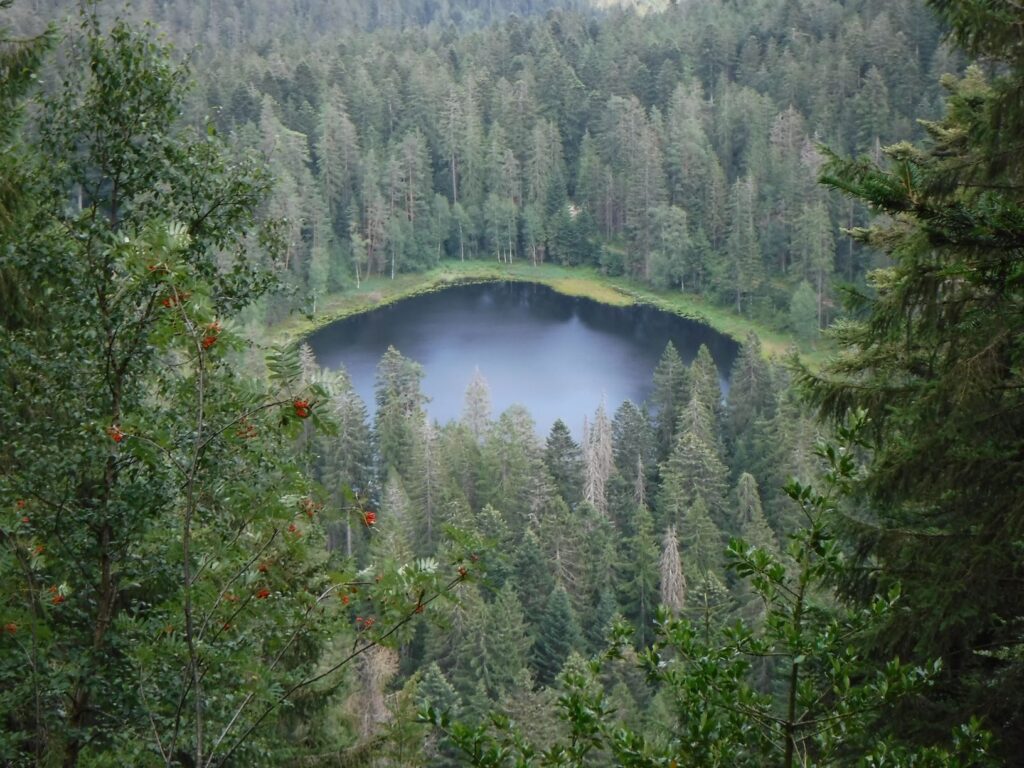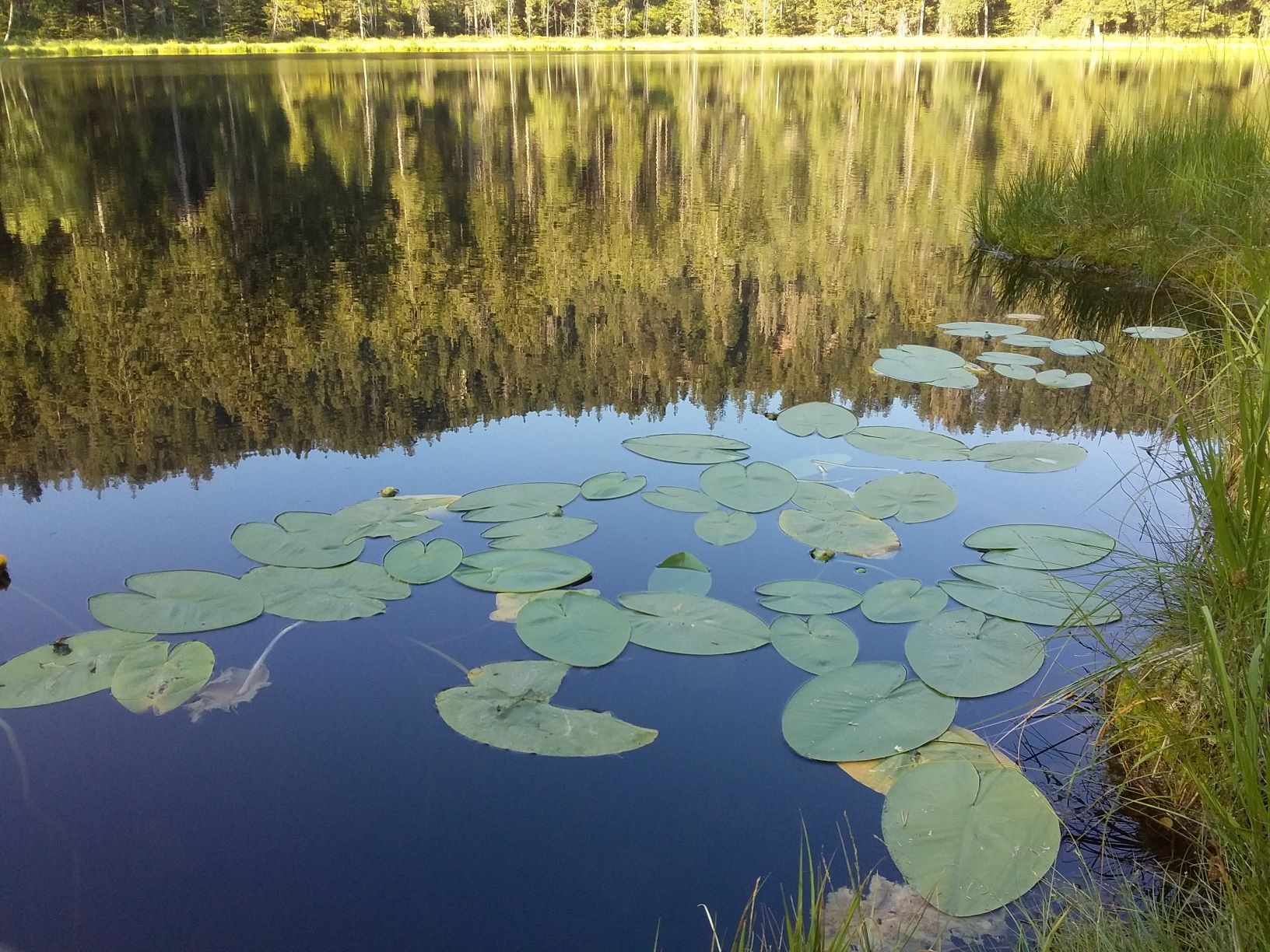 Schurm Lake, Wilder Lake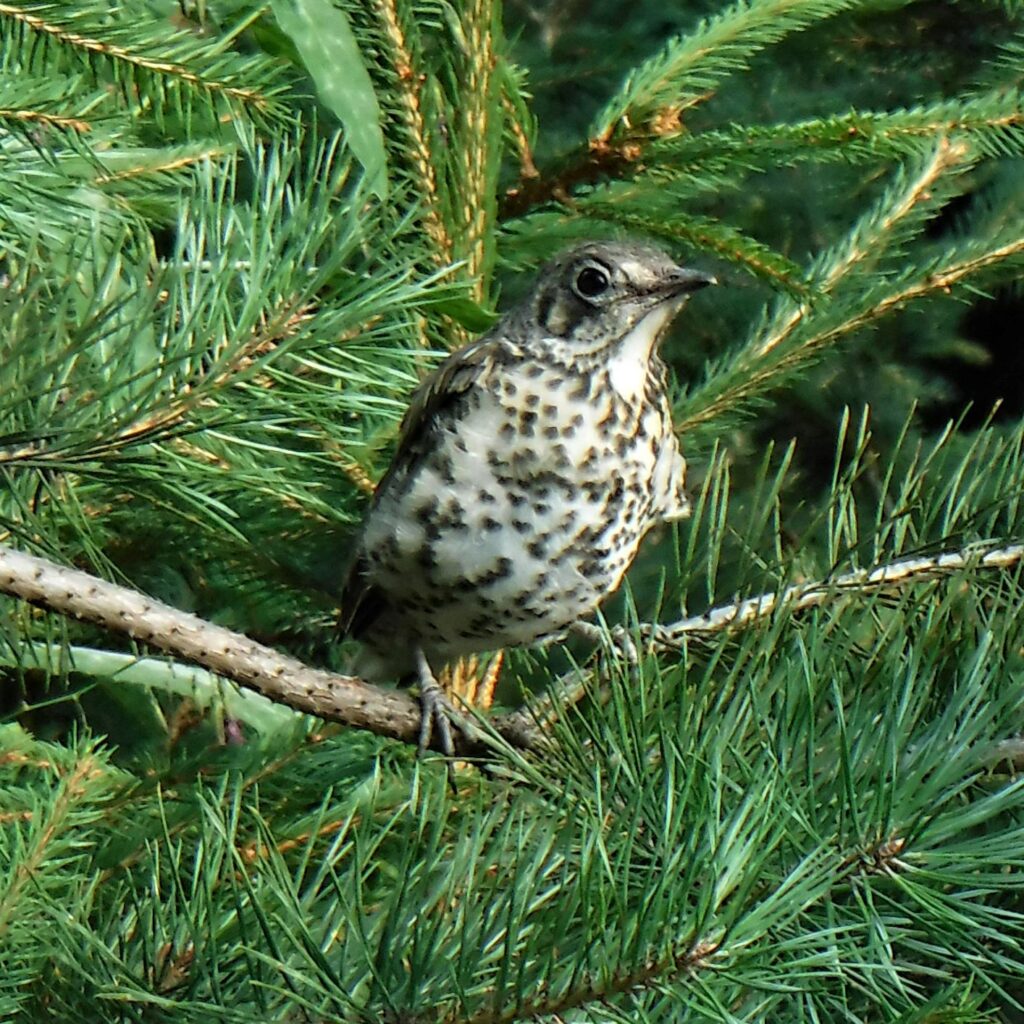 I was descending to Schurm Lake in the early evening when I nearly walked straight into this song thrush, who was perched about chest-high in a young fir tree. Clearly its chosen survival technique was to wait until a potential predator had unknowingly bumped right into it, and then fly off in the ensuing confusion.
It was great to be out camping again after so long. Lying in the bivvy bag at night listening to the nocturnal creatures scurrying around going about their business was an absolute pleasure. I slept better than I had in ages.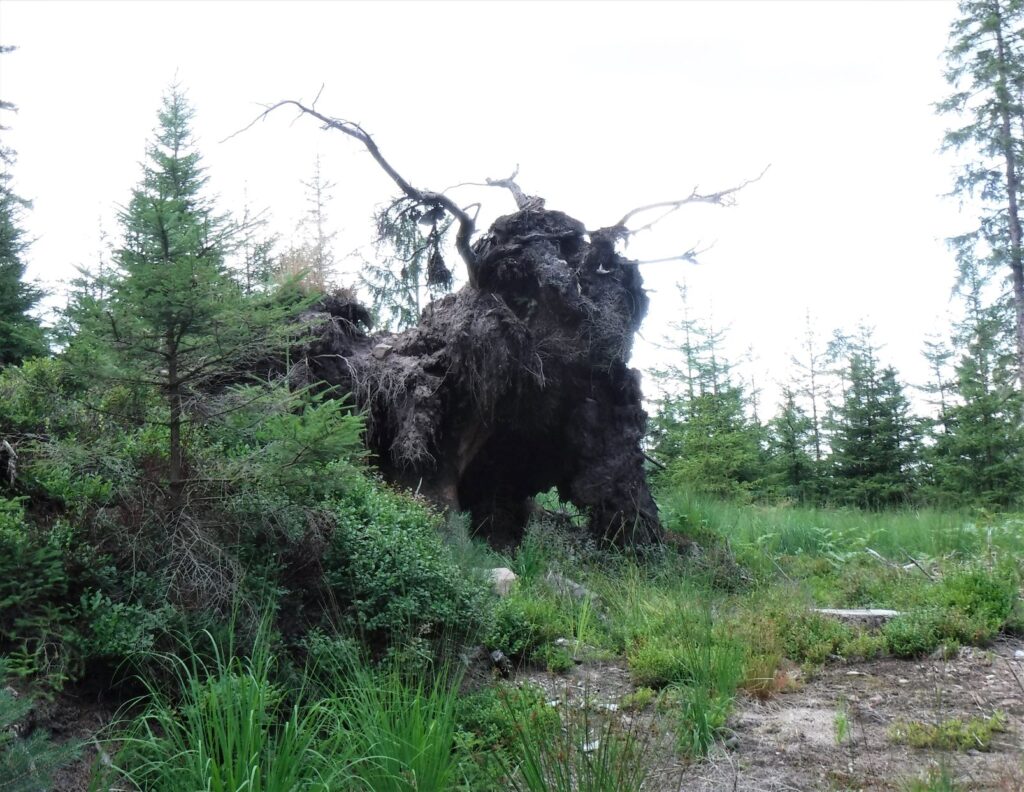 I gave myself a pretty good chance to encounter something fairy-tale-ishly supernatural whilst walking in the Black Forest, but sadly nothing was forthcoming. Mind you, when I emerged from some dark scrub I did look at this thing twice.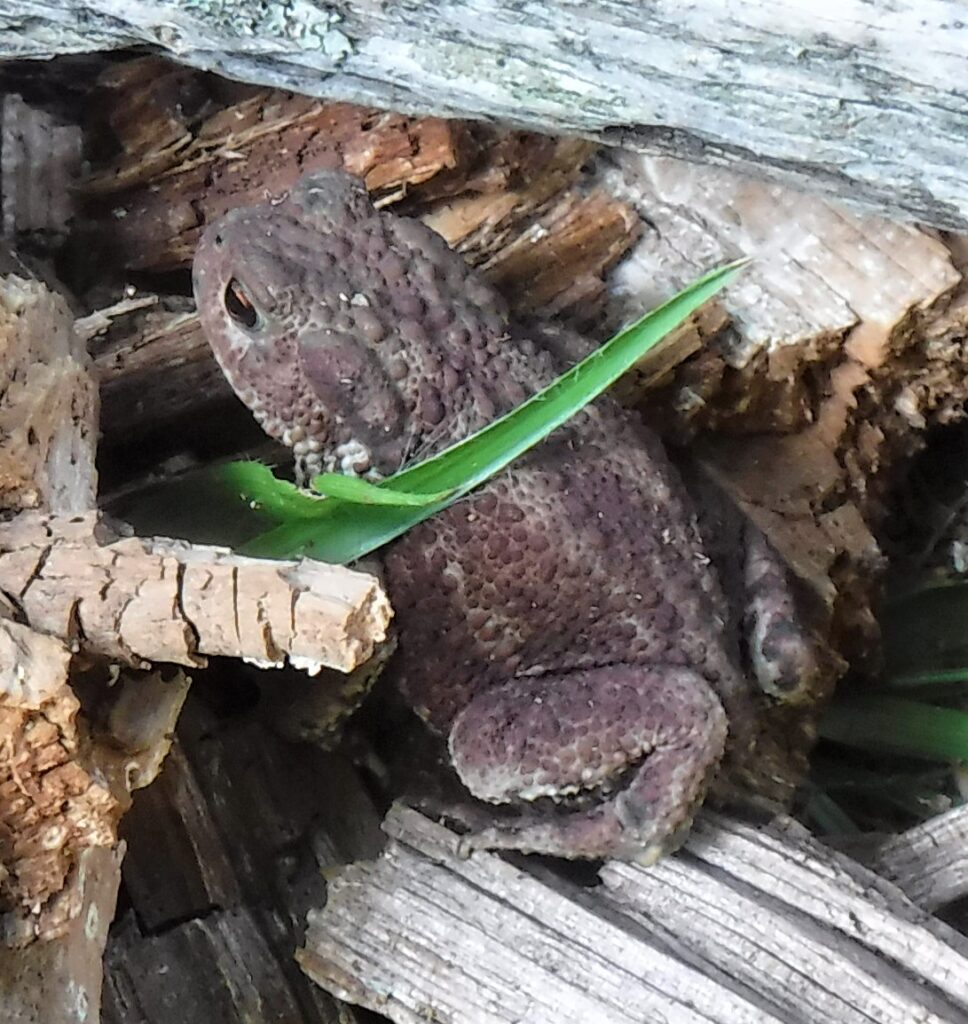 And maybe if I had kissed this little bloke…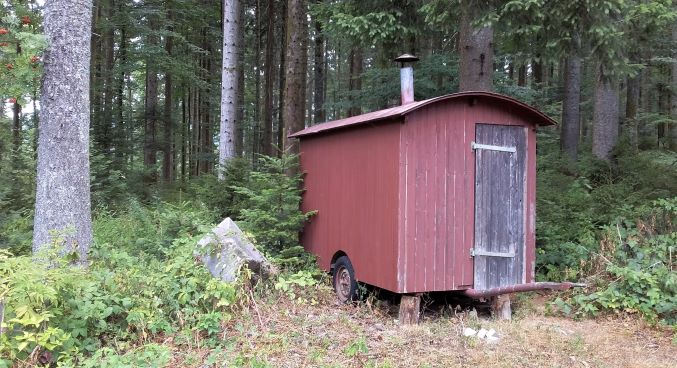 …and I wouldn't have been the least bit suprised if some gobliney bastard emerged from this little cabin-on-wheels in the forest.
With over 50 leisurely kilometres in the legs, I arrived back from my ramblings, grateful to find the car where I had left it. My time in the Black Forest reminded me that being in nature is where I feel the most peace and contentment. I promised myself there and then that I wouldn't wait so long between camping and hiking trips in the future.
Apart from keeping an eye out for supernatural forest dwellers during my hike, I also had a look around for something else that is synonymous with the Black Forest. But more on that later.
For more on the Black Forest National Park, click here
If you liked this post, you may also like Climbing Mt Hoverla, Seven Rila Lakes
Know someone who might like this post?