Leaving Spain, first attempt
Leaving Spain, first attempt
The catamaran had been my home for the past five months, and I'd been very fortunate to have some great adventures aboard. However with the good ship parked up at the marina in La Linea for repairs and upgrades, it was time for me to be leaving Spain.
With inter-regional travel in Spain still limited, and Portugal locked down tighter than a chastity belt, it was time to move a little further afield. Well, at least across the Straits of Gibraltar to Morocco. Morocco has a lot to offer, including great hiking, surfing, and motorcycling, and according to all the websites was still open for tourism. I booked my ticket from Malaga to Casablanca on RoyalAirMaroc, and organised a Corona PCR test in Marbella.
After a short bus trip from La Linea, I lined up with a bunch of other non-Spaniards for my Corona test at a clinic in Marbella. The nurse was a little more gentle than the bloke in Tunisia (at least she didn't draw blood; see Arriving in Africa), but geez it was still pretty uncomfortable. My eyes were watering when I paid for my test, partly from the nasal trauma and partly from the cost. 190 euros. That's $304 Australian dollars. Bloody hell! Mind you, I would get the test result back within the day.
After catching the bus to Malaga, I checked in to a hotel near the city's main railway station. The staffer was kind enough to print off my travel documents, and my test result, which thankfully was negative.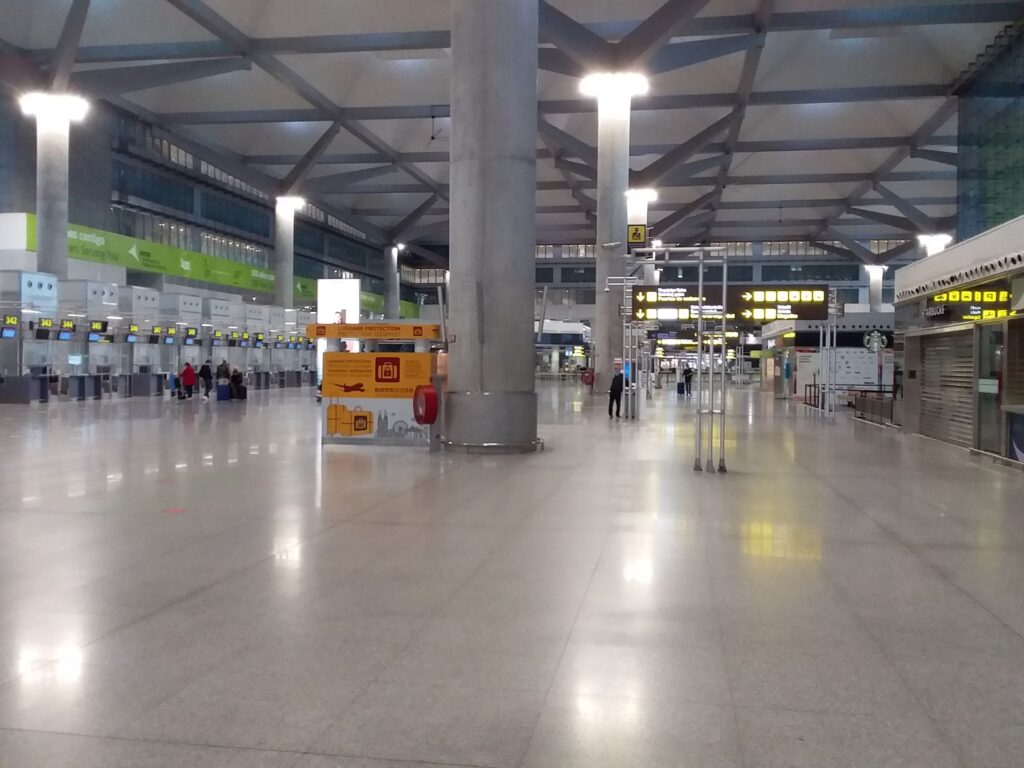 Next day I walked the short distance to the train station, and caught the service to the airport. The terminal was very quiet as I took my place in the queue for the RoyalAirMaroc flight to Casablanca. I reached the desk, and handed over the necessary documents. The bloke had a look at my passport, and stony-faced behind his mask informed me that I could not fly to Morocco because I was an Australian citizen.
I said 'I beg your pardon…' He repeated himself.
'But…I was able to book the ticket and there was no information anywhere stating I was not permitted to fly.'
'I'm sorry sir.'
'But I haven't been in Australia for nearly 12 months.'
Stony-faced stony silence.
'Well is there anyone I can talk to about this?' He gestured to a lady at the adjacent desk. I shifted my bags across the floor.
The converstaion went like this:
RoyalAirMaroc staff member: 'We have a list of banned countries here and it says that Australian citizens are not permitted into Morocco.'
Me: 'But there was no information to say that Australian's couldn't travel.'
'I'm sorry sir.'
'Then why was I allowed to purchase a ticket?'
'You don't need to enter your passport details when you book. Anyone can purchase a ticket'
'But why didn't the RoyalAirMaroc website state that Australian citizens couldn't travel?'
'That is the responsibility of the official authorities.'
'Well their websites didn't say anything either. This is unaccaptable. Is there anyone else I can speak to?'
'You could try the King of Morocco.'
Now this is the moment in such a conversation when everything can start to break down. You have a customer who is clearly frustrated by the situation, and a 'customer service' attendant who decides it's a suitable time to get mouthy. The only appropriate reply for an Australian who finds themselves in such a scenario is, of course, 'Don't be a smart-arse'. However, knowing that RoyalAirMaroc had my money, I bit my tongue. Barely holding it together, I said 'Well if you have his number I'll give him a call'.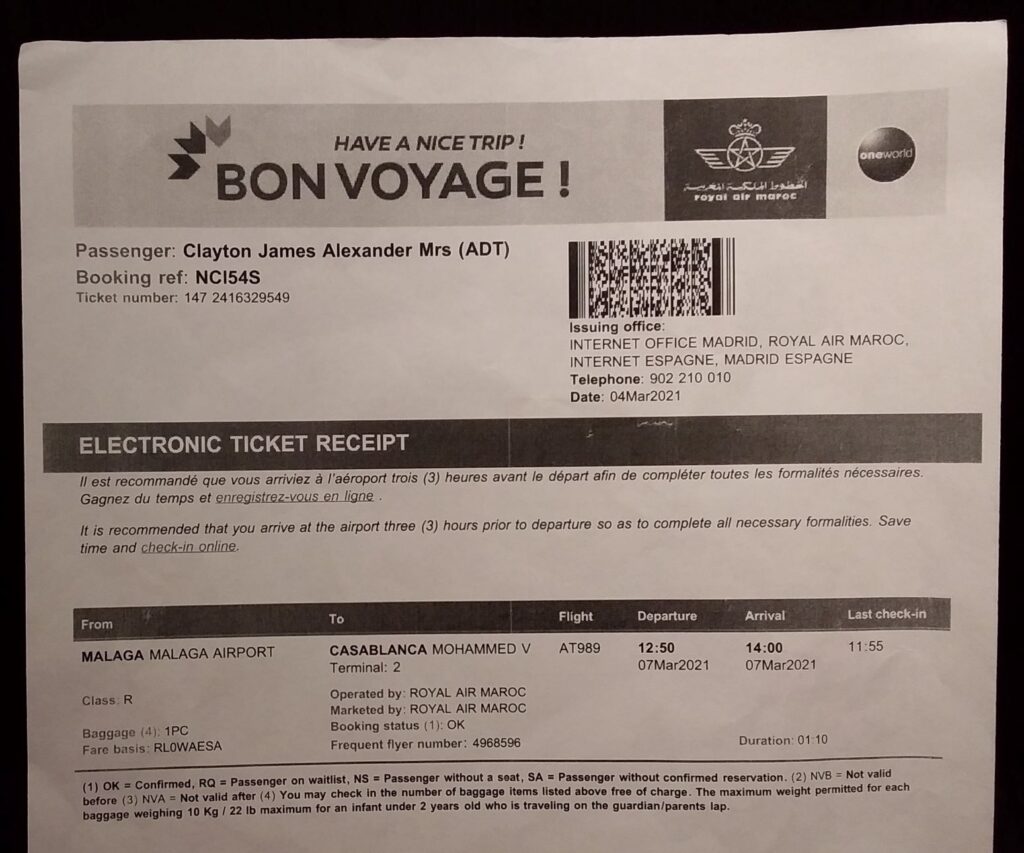 Clearly the RoyalAirMaroc staff were not going to be any help at all. Geez if it had been me I would have at least said something like 'I'm sorry sir, but this situation is out of our control. If you go to the RoyalAirMaroc website you can apply for a refund. We'll be sure to add the list of banned nationals to our website booking page.' Anyway, I found a spare seat nearby and busted out the laptop. Had I been a dickhead and just missed the information on the Moroccan National Tourism Office website, or the several other relevant sites I had checked? No, none of the sites warned that Aussie couldn't travel.
Why the fuck would Morocco choose to ban Australians from entering their country because of Corona? For starters, Aussies can't even leave their own country let alone fly to Morocco. And then there's the small matter of Spain being one of the most Corona riddled nations on earth, and Australia one of the least, and yet the Spanish can enter Morocco without a problem. That doens't make any fucking sense at all.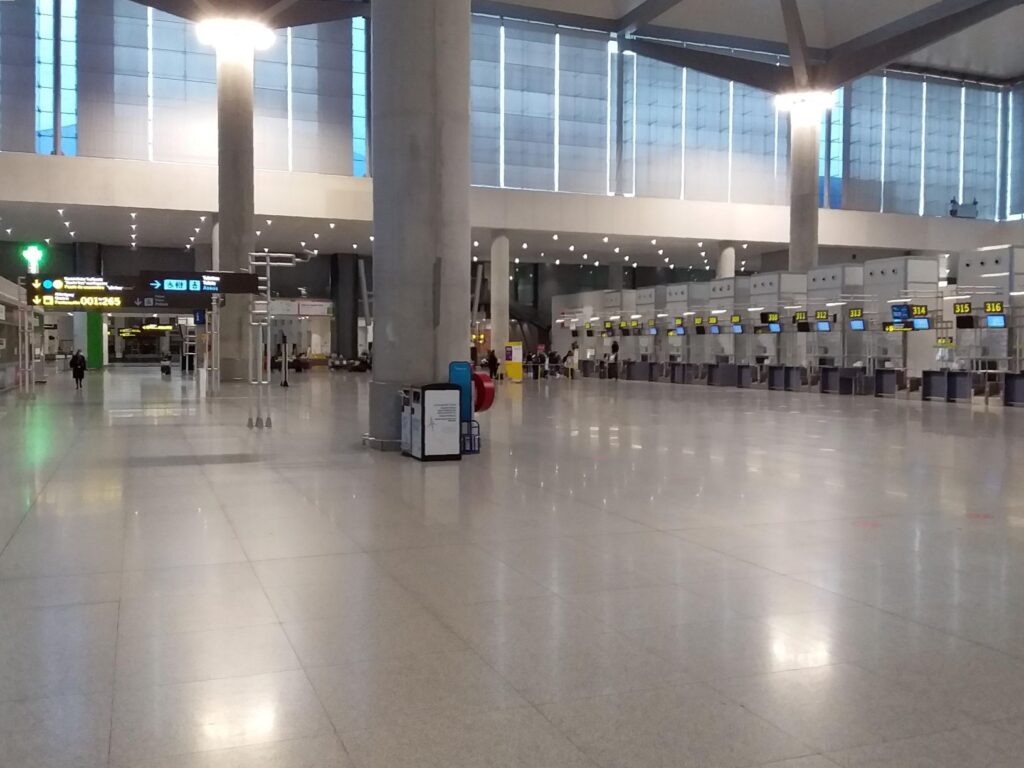 What a bummer. I was really looking forward to Morocco. But trying to keep things in perspective (after all, having to adjust travel plans because of Corona is a small thing compared to losing lives and livelihoods), I tried to figure out a Plan B.
I could stay in Andalusia for longer, but I was ready for a change. I was also keen to get a bit of value out of my PCR test nasal violation. I weighed up my options, and decided on Egypt. After all, I had always wanted to go there, and as far as I could find out, it was open for tourists (just like Morocco…). At least my Corona test was still valid for another two days (most countries require the test to be taken no longer than 72 hours before arrival); the fact that I had received the result so quickly was going to give me a lot more flexibility.
I found a traveler's assistance desk and a very helpful lady, who made some phone calls and checked out a few things on the 'net. She assured me that I could fly to Egypt, as long as I had the necessary documents. Thankful for her help, but still unconvinced, I caught the train back to Malaga city, and walked back to the hotel. The bloke on the check-in desk was surprised to see me, and I gave him a quick run down of what had happened. He was sympathetic, and kind enough to print out all my new travel info and documents.
Deflated, I went up to my room in the empty hotel and, with trepidation, booked a ticket to Cairo. Would I be leaving Spain tomorrow?
Postscript: That night I completed the RoyalAirMaroc online claim form to request a refund for my flight. When I tried to submit it, I received an error message. I made several attempts with the same result. I sent an email to RoyalAirMaroc explaining that the online form wasn't working, and stating my claim for a refund. The following day I received an email reply from them, informing me that if I wanted to claim a refund I would have to complete the online claim form. Just for fun I clicked on the link they supplied. It didn't work.
If you liked this post, you may also like Leaving Spain Second Attempt, Climbing La Concha, Marbella Spain
Know someone who might like this post?