El Djem Archaeological Museum
El Djem Archaeological Museum
Gods, Grapes and Drunks

After another enormous breakfast in the empty restaurent of the hotel, I set off for the El Djem Archaeological Museum. Holding a trove of Roman-era mosaics and artefacts, the museum is the second major tourist attraction in the town.
I have been trying to improve my French for the past 12 months, knowing that my travels would take me to places where French colonial history had left the language behind. Striding up to the ticket office at the Museum, I asked in my best French for a single ticket for the museum please.
The staff member replied with several sentences, and my heart sank. I was instantly transported back to high school French classes, where fortnightly conversation tests would have me floundering and stuttering. My eyes glazed over, and I realised that instead of listening to the staff member I was instead wholly occupied with reliving my childhood language class nightmares.
I ashamedly admitted to the staffer that I couldn't speak much French, and he told me in perfect English that if I had already visited the Colosseum then I needn't purchase another ticked. I thanked him and hurried away.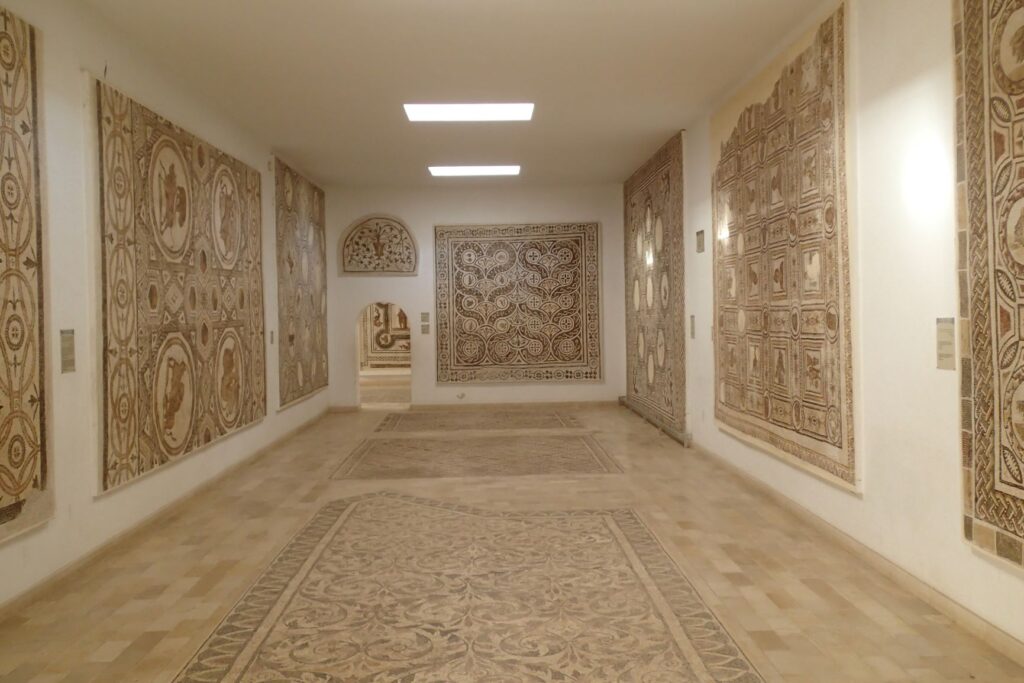 The white-walled galleries of the museum held an enormous collection of mosaics from the 2nd and 3rd centuries, when the intricate artworks covered the floors and courtyards of the the well-to-do residents of Thysdrus (later El Djem). Roman mythology and the bounty of the land were popular themes.
The mosaics were extraordinarily detailed, and comprised of literally thousands, and in some cases millions, of tiny approximately 5mm x 5mm ceramic pieces. The artworks were removed from their original house sites in the 1960s in order to preserve them from the elements and pressures of development.
From the large collection on display, there were a handful that particularly caught my eye, including this one. Considering the amount of time each mosaic must have taken to make, you would reckon that the artist who created this piece would have realised, at some stage, that they had started on the last panel the wrong way around.

Dionysus, a god who loved getting on the fizz, featured in quite a few of the mosaics. In this mosaic, Dion is pissed again, but has done the responsible thing by leaving his chariot at the pub and and catching a cab home.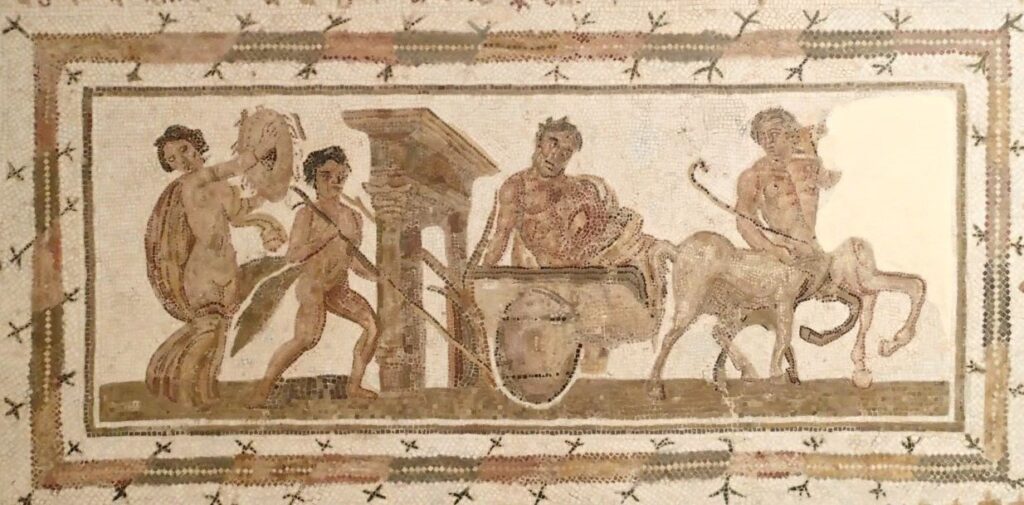 The explanatory sign beneath this mosaic reads '…birds and pigmies (sic) busy with various activities'. This particular pygmy is busy trying not to trip over his colossal penis.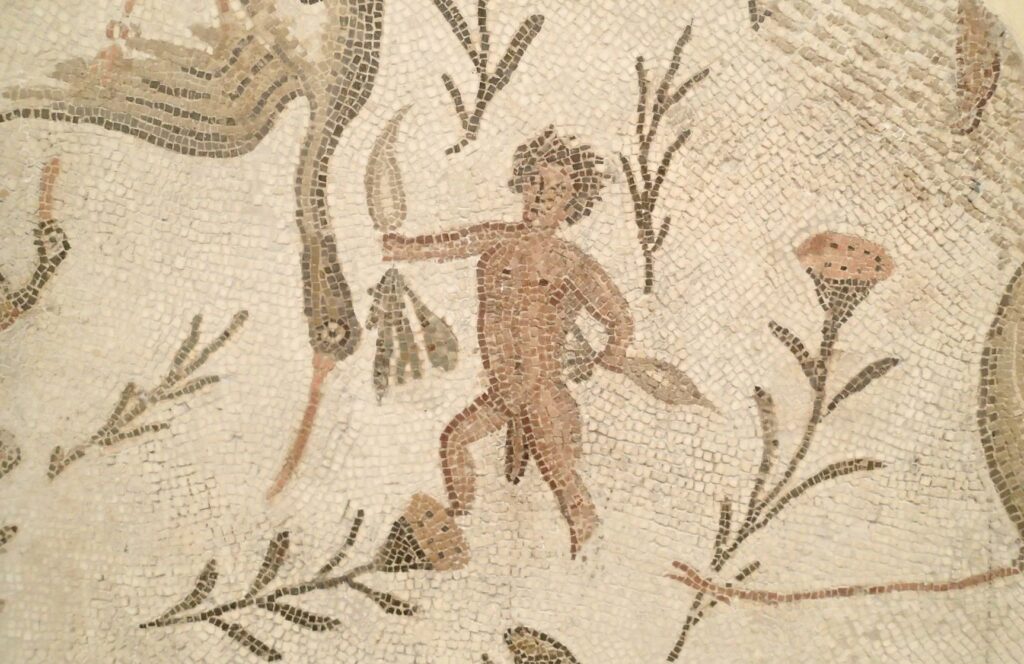 Many of the mosaics were food and harvest oriented, like this one.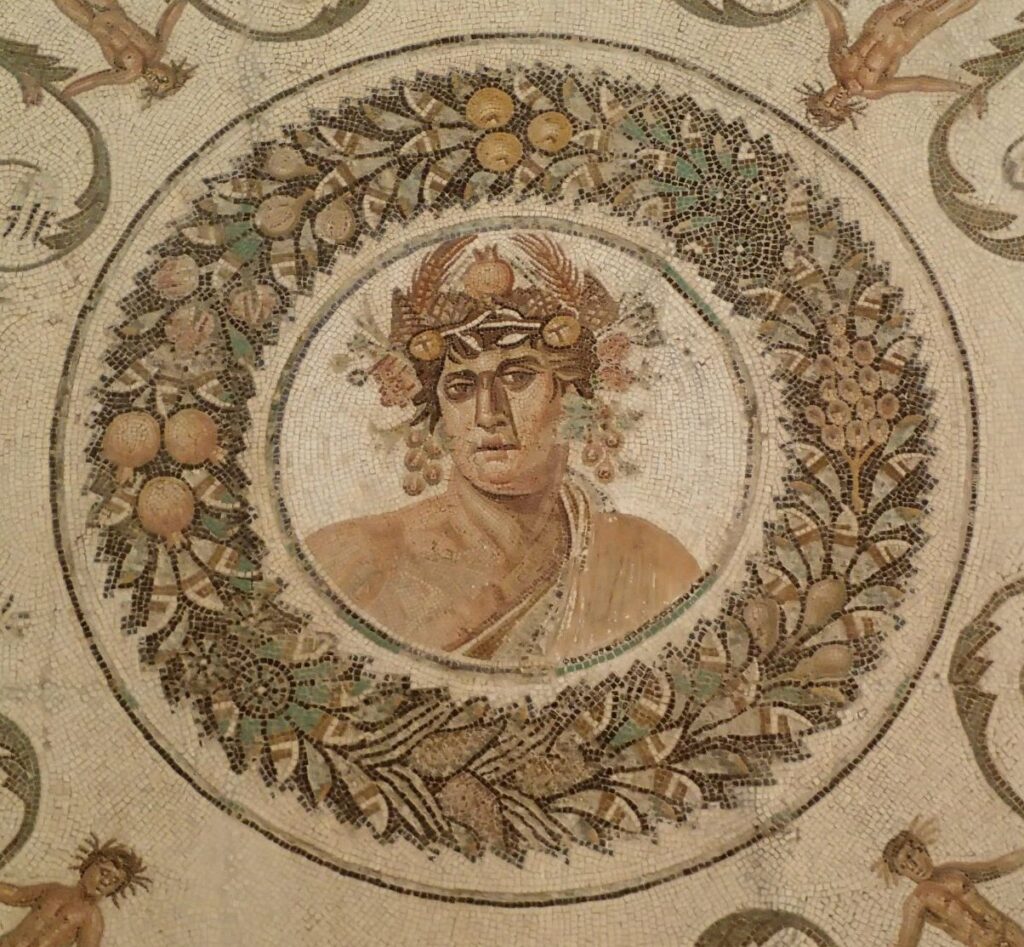 Here's our old mate Dion again, and it's no small surprise he's legless. In this mosaic his mates are carrying him towards a donkey, which is presumably his transport home after another big night. It's a well put together mosaic, no doubt about it, but it's a bit of a strange design to choose to have in your house. Imagine going to your friend's place and finding a fine art painting of Trev being carried to the designated driver's car by his mates?
'Mosaic of angels grape-pickers and panthers.'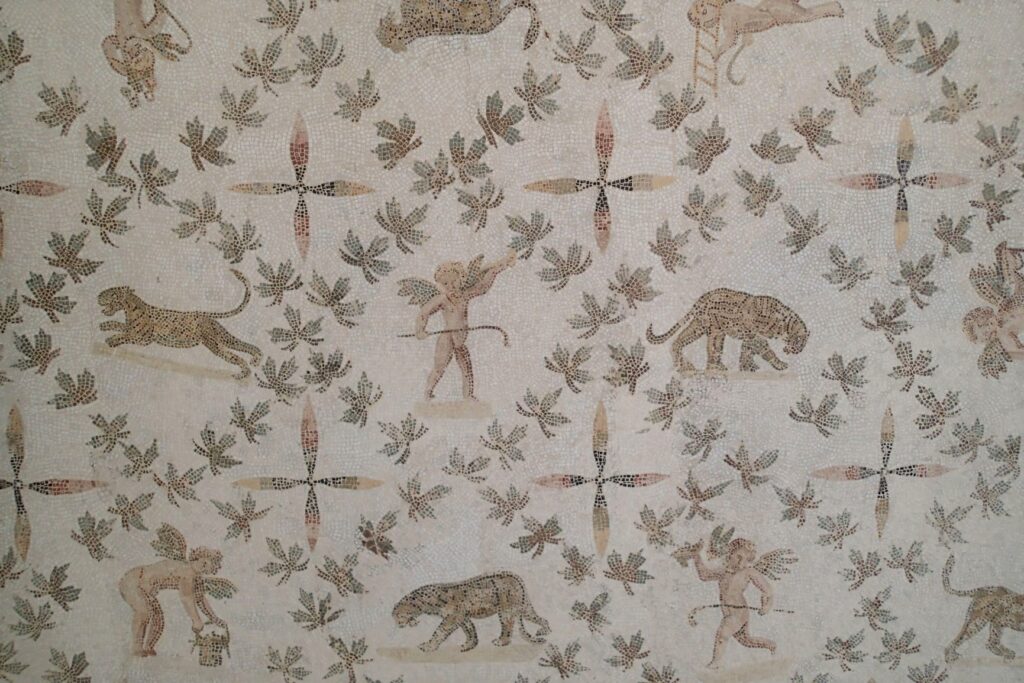 One of the Roman-era houses during archaeological excavation.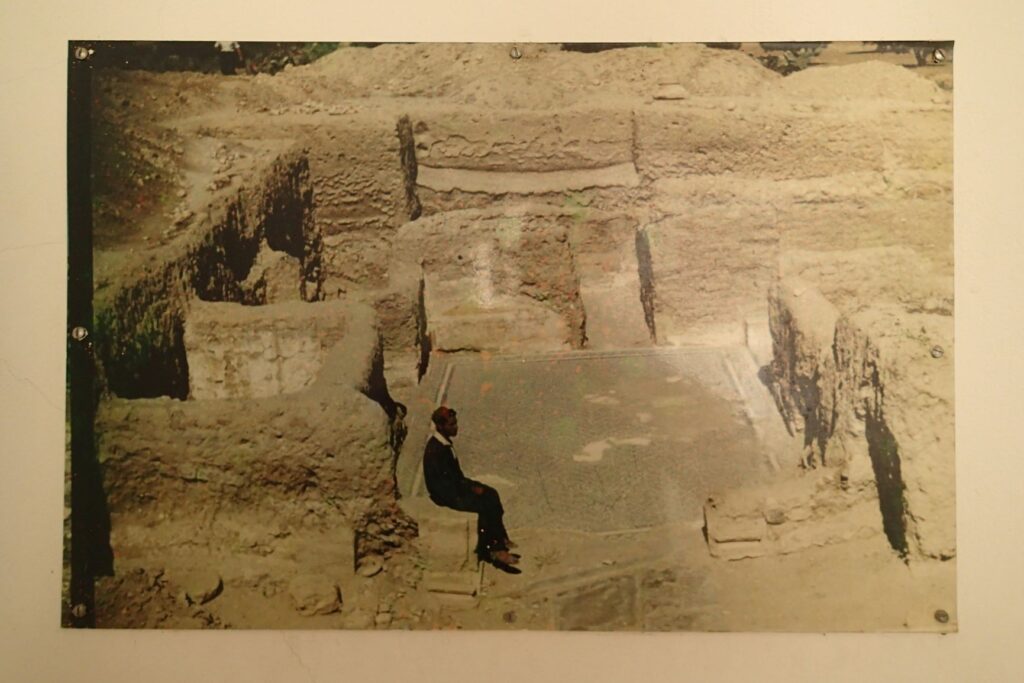 After wandering through the El Djem Archaeological Museum I bid the bloke at the ticket desk an embarrassed 'au revoir' and headed out into the bright winter sunshine. The Romans certainly left an architectural and artistic legacy behind in El Djem, and if you enjoy visiting ancient sites, put Old Thysdrus on your list if you ever wind up in Tunisia.
For more on the El Djem Museum click here
If you liked this post, you may also enjoy El Djem Colosseum, Driving in Tunisia
Know someone who might like this post?