Under the Red Sea
Under the Red Sea
When you're a kid, especially if you are fortunate enough to grow up in a nurturing environment, you experience things regularly that completely blow your mind. Things that are so amazing, or exhilarating, or fun-scary, or all of the above, that they leave you frothing with excitement. As you get older, these moments grow further and further apart. Perhaps you have experienced the sensation before, or something close to it, and although it's still cool, it isn't quite as magical as before. Or perhaps you have grown more cynical and world-weary, and life has lost a bit, or a lot, of its shine.
When you're middle-aged, and you experience something that blows your mind kid-style, it's something to celebrate. I did something last week that left me yelling with pure joy and wonder. I went scuba diving under the Red Sea.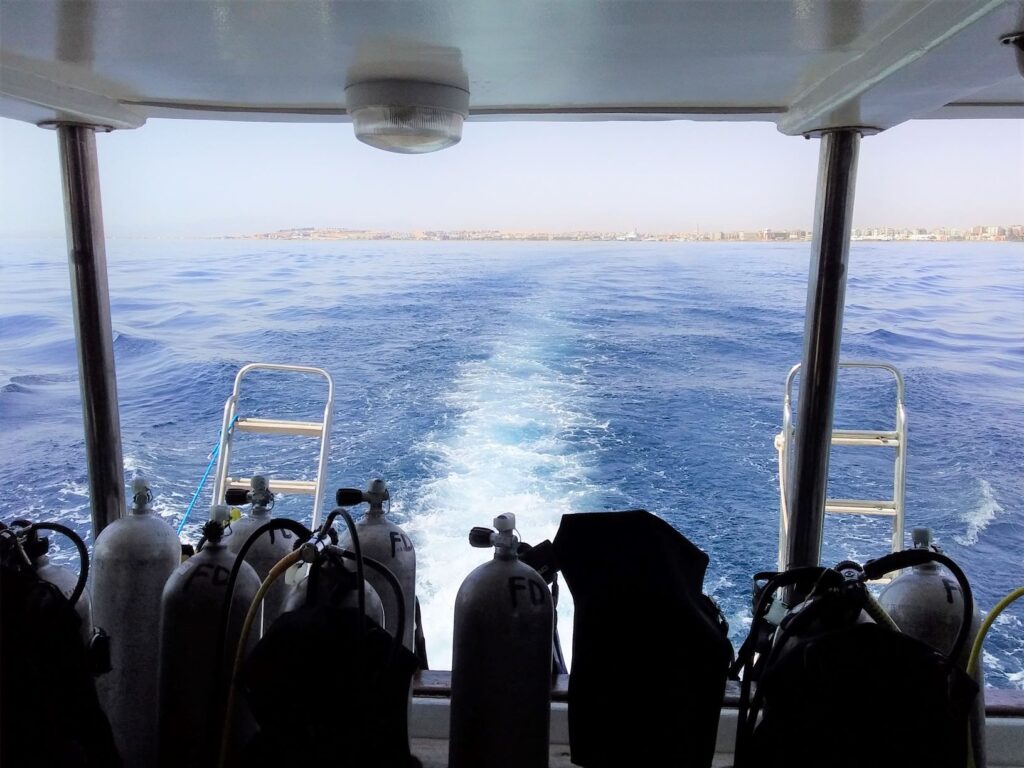 Ocean sports for me, up until relatively recently, had been all about surfing. Then I got into sailing, which is another great way to enjoy the water. Although I always imagined that scuba diving would be pretty amazing, it's only in the last few years that I thought I really should give it a shot. When I lived in Darwin, I did a little research to see if there was a dive club in town. Now Darwin watersports are problematic, as although the water is warm and inviting, it houses a suite of creatures quite capable of killing you. Interestingly, if I remember rightly, the scuba club that did exist in Darwin for a while wound up not because of the sharks, crocodiles, irukandji jellyfish et. al, but rather that the water off Darwin hasn't got particularly good visibility.
Upshot was I couldn't learn to dive in Darwin, and wasn't about to attempt it in New Zealand as it was too bastard cold. But it's been ticking away in the back of my mind, and when I found out Egypt was a renowned diving location, I decided this would be the place.
Hurghada is a holiday destination for sun-starved Europeans on the west coast of the Red Sea. Like many Egyptian resort towns, it seems to be in a boom state, with developments springing up all along the coast, and hardly a square foot of dirt left undisturbed. A closer look and you find that most of the half-finished projects are sitting idle, without any construction activity, perhaps waiting for more investment money once the pandemic is over. Or maybe supply has simply outstretched demand. Anyway, I set myself up in an apartment owned by a Russian bloke called Dimitry, in a large apartment complex where all the other apartments also seemed to be owned, or rented, by Russians. I selected a dive company from the many operators in town, and booked in for my three-day course. I was finally going scuba diving.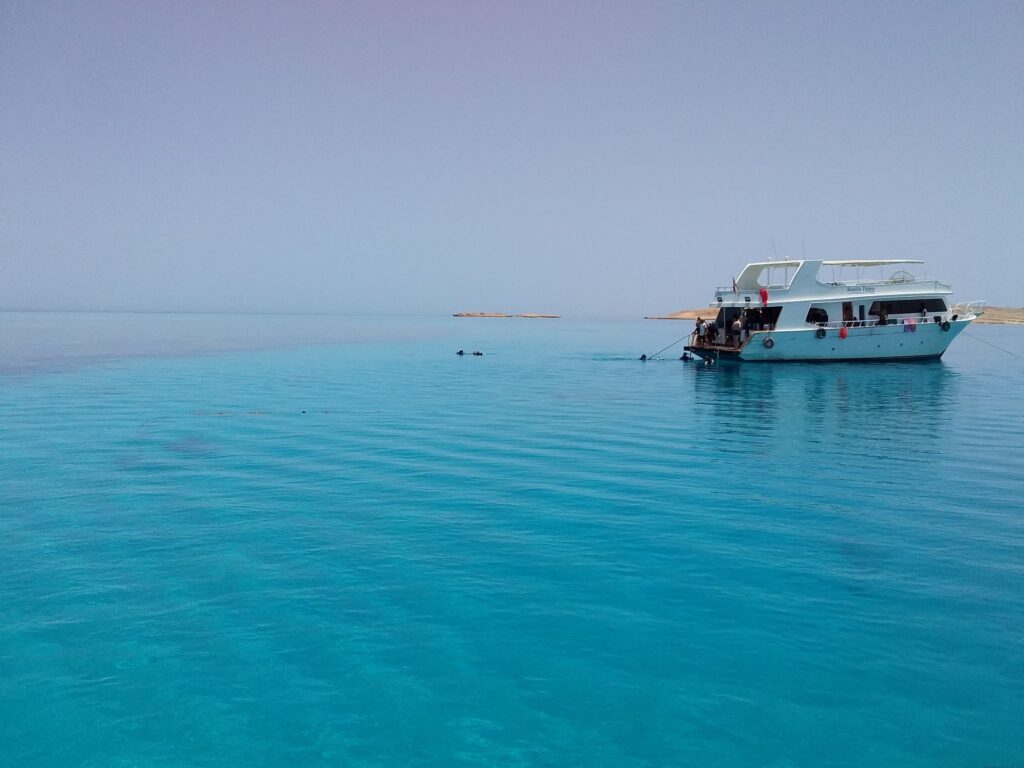 I held a few little worries prior to starting the course. One was being able to take in and retain all the knowledge I expected to have to learn in a short period of time. I've always found short, intensive courses stressful, and don't think I am particularly suited to that style of learning. Secondly, my ears hurt when I swim 'deep' underwater, and I thought this might prove to be a drama.
Day one dawned, and I was picked up outside Club Russia and whisked off to the port area. There were a bunch of dive boats tied up together, and I clambered across a couple until I reached the one that was to be my classroom for the next three days. I met a couple of young fellas that had started the same course the day before, and another bloke who was in the midst of training to be an instructor (Marschel, who took a camera down with him on the dives). I was introduced to my instructor Mahmoud, a local bloke in his thirties in whose hands I would be placing my life.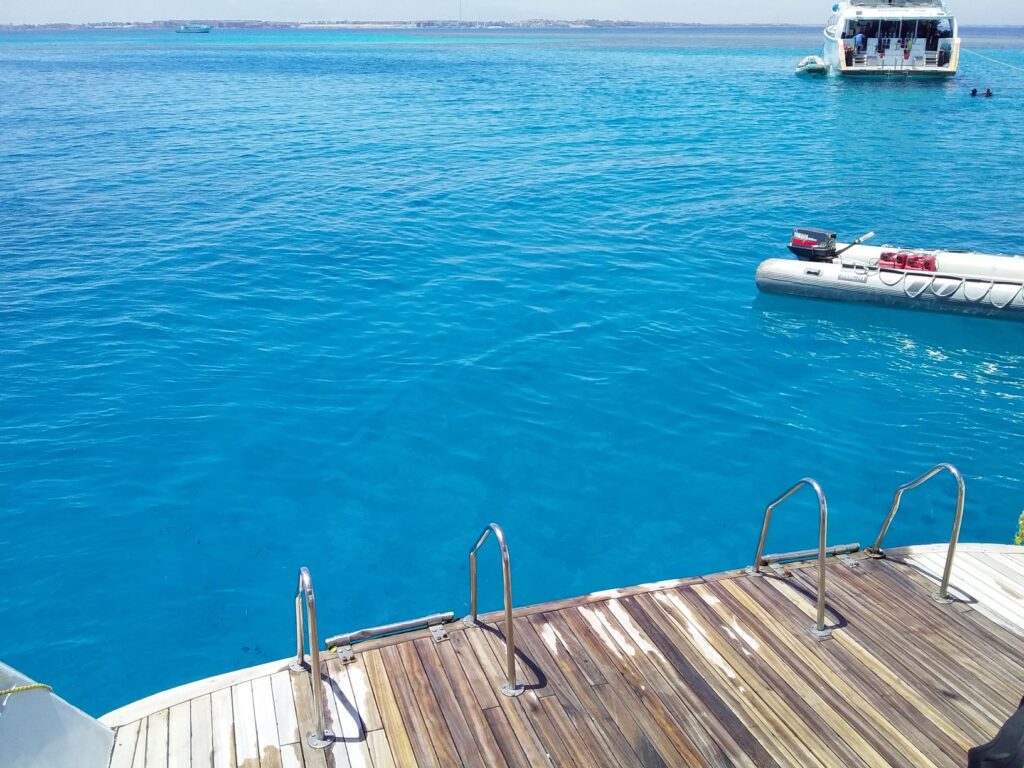 The day was magnificent, with hardly a breath of wind and astonishingly clear water. On the cruise out to the dive site I was taken through the equipment, what it did, how it worked, and how it all went together. It felt good to be learning a new skill, and there was a happy vibe on board with people of all ages and experience levels excited to be heading out for the day on, and under, the water.
I had heard that beginners often start their training in a swimming pool, or off a beach in the shallows. I was therefore a little surprised when before I new it I was wet-suited up, being helped into my diving gear, and ushered towards the back of the boat. Following Mahmoud's instruction, I had soon jumped off the boat and was descending into the crystal blue, talking my first breaths underwater.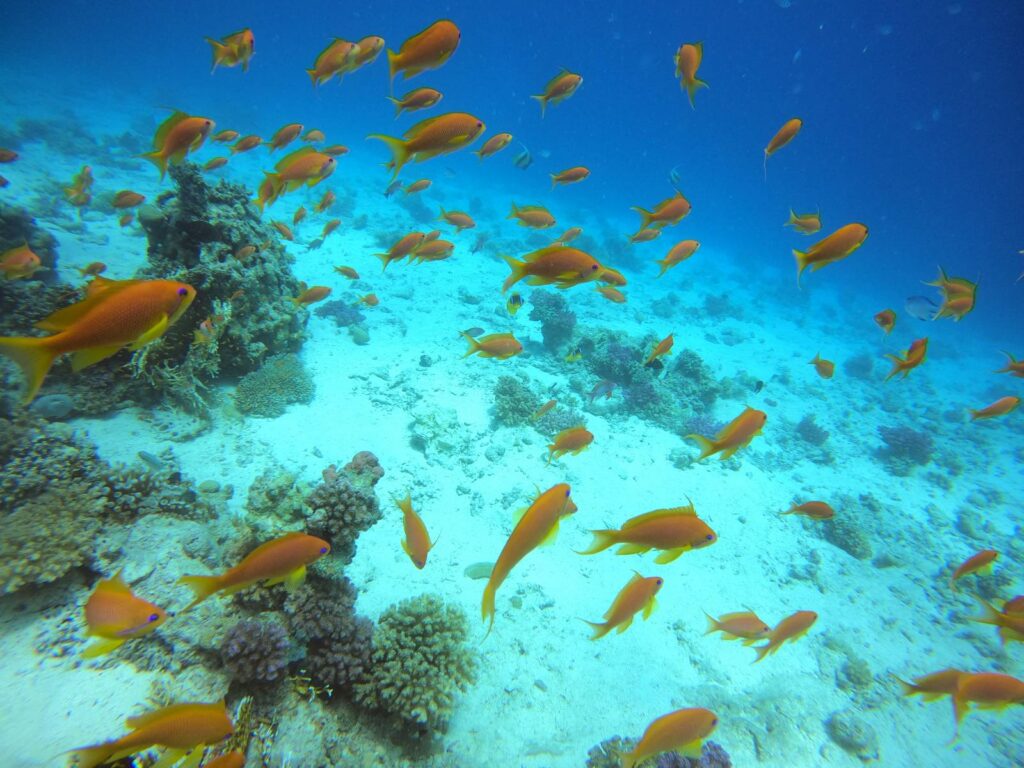 An astonishing variety of ridiculously coloured fish flitted, flashed, and cruised past as I gently sank to the sand three metres below the surface. Equalising the pressure in my ears with the technique I had been taught worked like a charm, and my concern about this potential problem started to fade. I was giggling and hooting and swearing with excitement, swept up in a moment of child-like joy.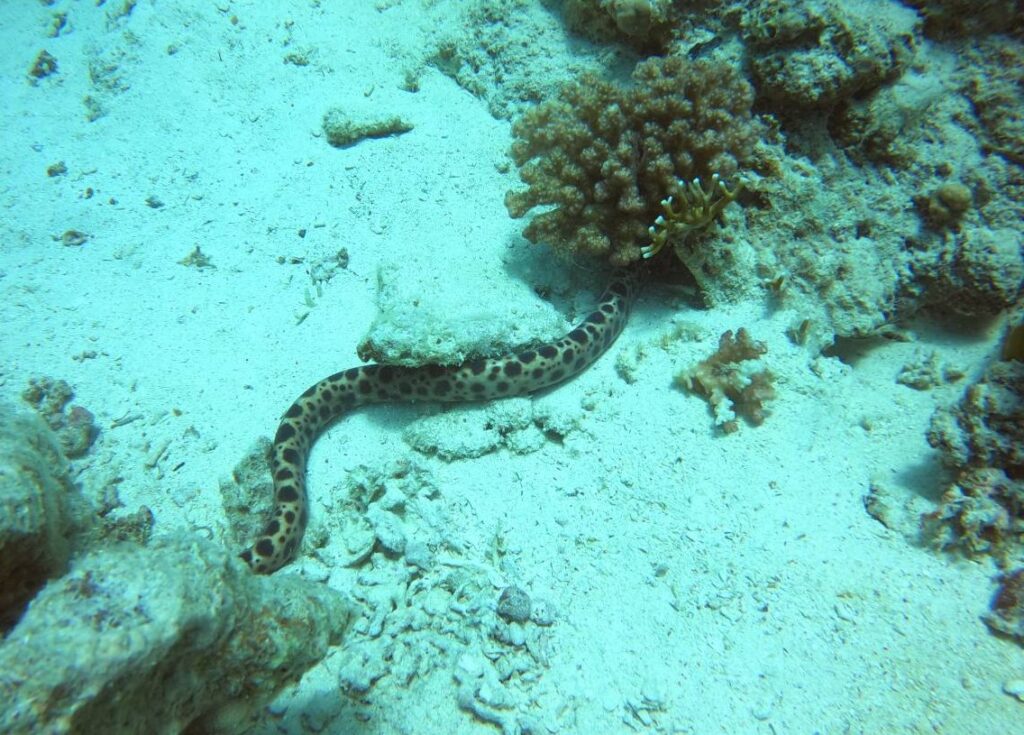 Over the three days and six dives, we went through a variety of exercises, learning how to breathe, move and communicate effectively underwater, and handle emergency situations that may arise. Some of the underwater tasks, like removing the breathing apparatus from your mouth briefly, and taking your face mask on and off, were a little intimidating. However I felt my confidence growing as I worked through each one under the calm guidance of Mahmoud. It certainly was a lot to absorb, and I spent every evening ploughing through the hefty manual in preparation for the final theory test.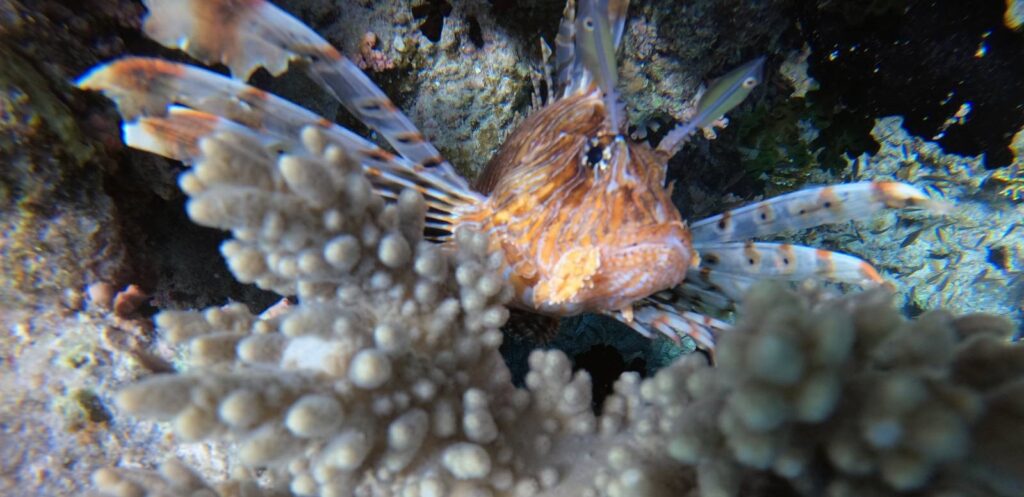 After the first couple of introductory dives, we started spending the last part of the subsequent dives doing some exploring. The old cliche about it being 'another world down there' is absolutely true. The variety of marine life was overwhelming, and I kept finding myself thinking 'I'm scuba diving!'. I was really surprised how fast I had gone from never having dived before to gliding across coral gardens up to 18 metres beneath the surface. That is definitely not to say I was in any way proficient in the skills I had been taught, but rather that I didn't realise I would be cruising the underwater world so quickly.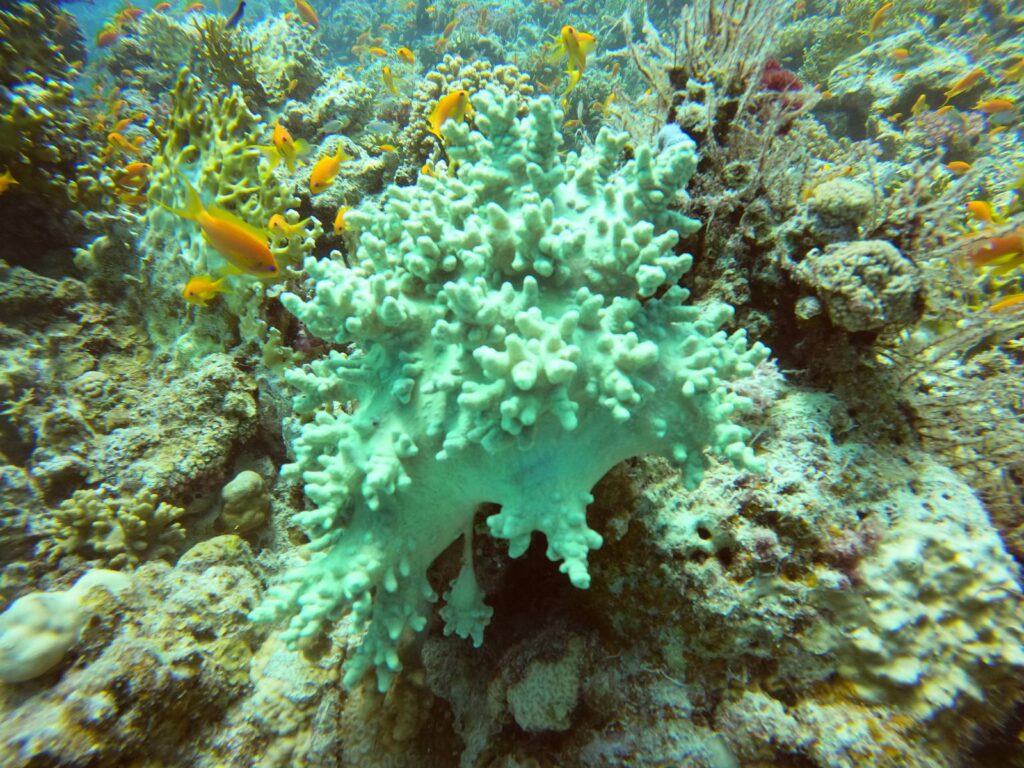 We saw beautiful coral formations, big purple lipped clam shells, and fish of every size, colour and shape. Spiny sea urchins, big moray eels lurking in dark crevasses, and rippling rays with bright blue spots. A majestic turtle that glided above us, and a huge octopus which changed colour in a wash of pure magic. It was spellbinding.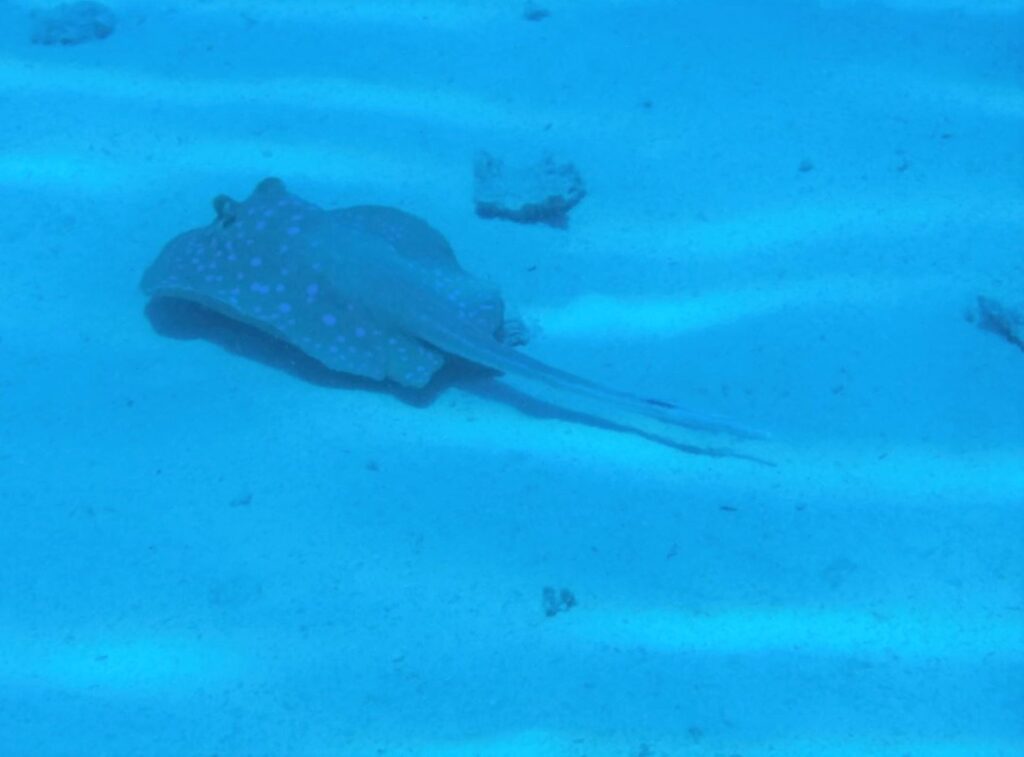 After finishing the last of the practical exercises, I sat the final exam in the dive boat's saloon.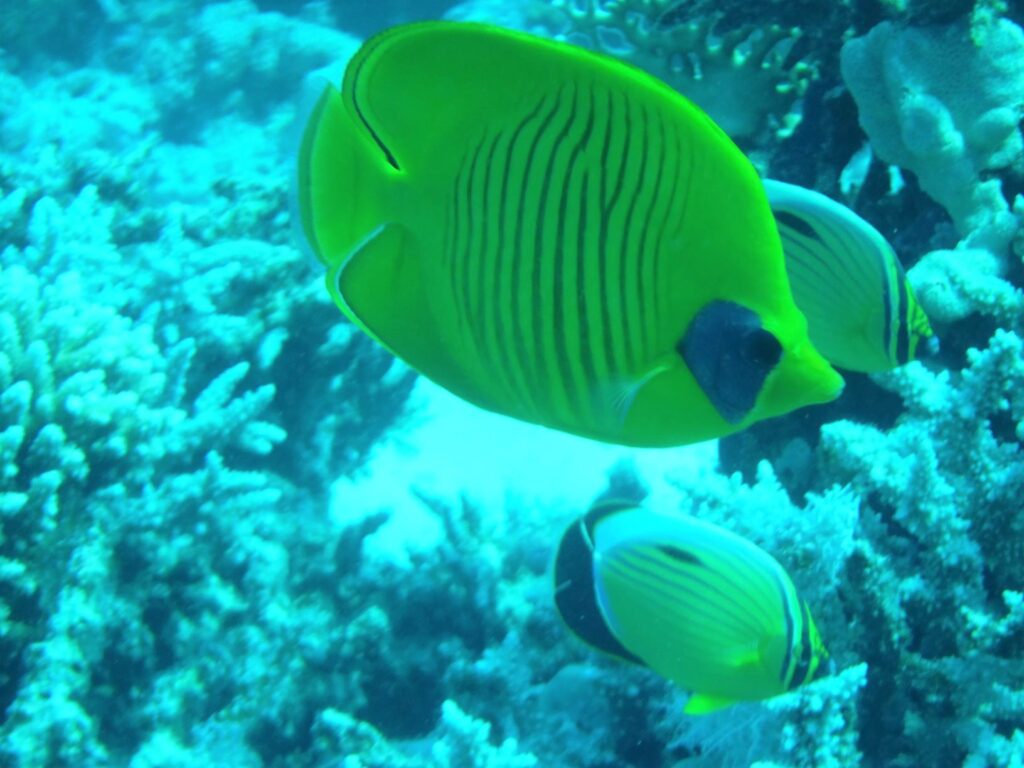 Thankfully my studious evenings paid off, and I passed, and was duly presented my certificate. I might only have achieved the first level qualification for diving, but I was feeling pretty good.
Blue-cheeked butterflyfish
Since completing the course I have gone out on another day's diving, and with no tuition involved, was able to enjoy two dives of pure exploration under the Red Sea. Although the whole experience was amazing, the highlight was seeing four turtles, which tolerated us watching and swimming alongside them. When we got back to the surface, my dive guide was nearly as excited as I was.
Scuba diving is, quite simply, one of the best things I have ever done. I am cynical and I am world-weary, so it's good to know that despite this I can still experience a child-like thrill when discovering something amazing.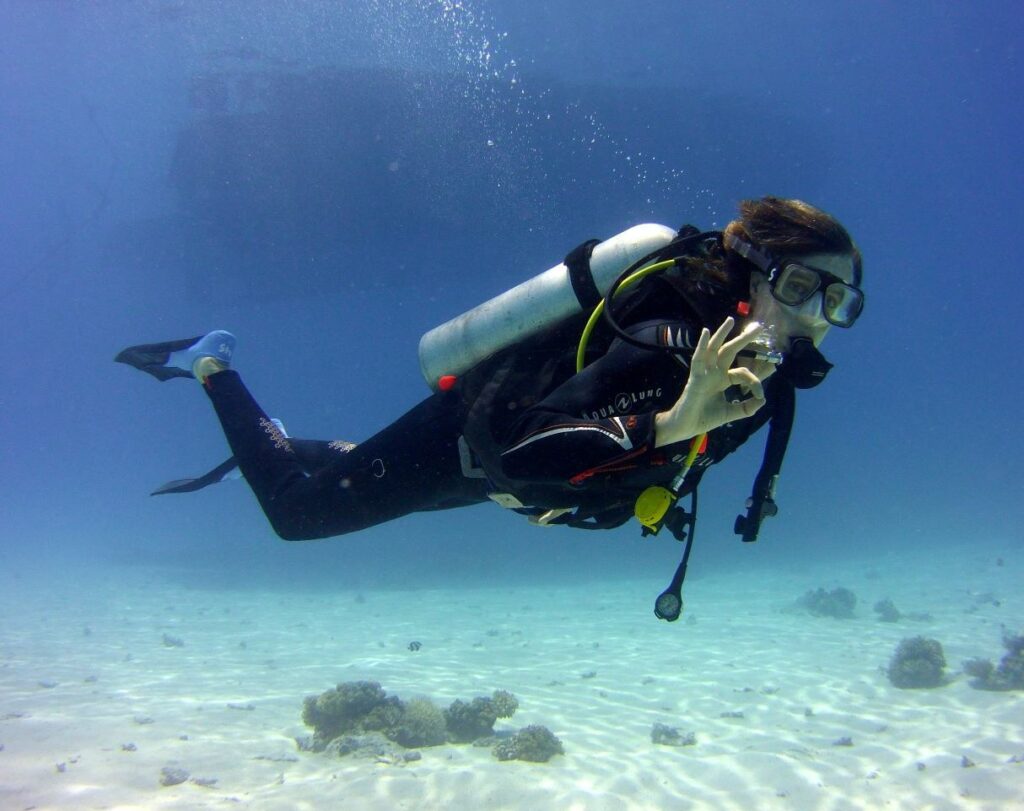 If you enjoyed this post, you may also like The S.S. Thistelgorm , Diving the S.S. Thsitlegorm
Know someone who might like this post?