Technology Museum Sinsheim
Technology Museum Sinsheim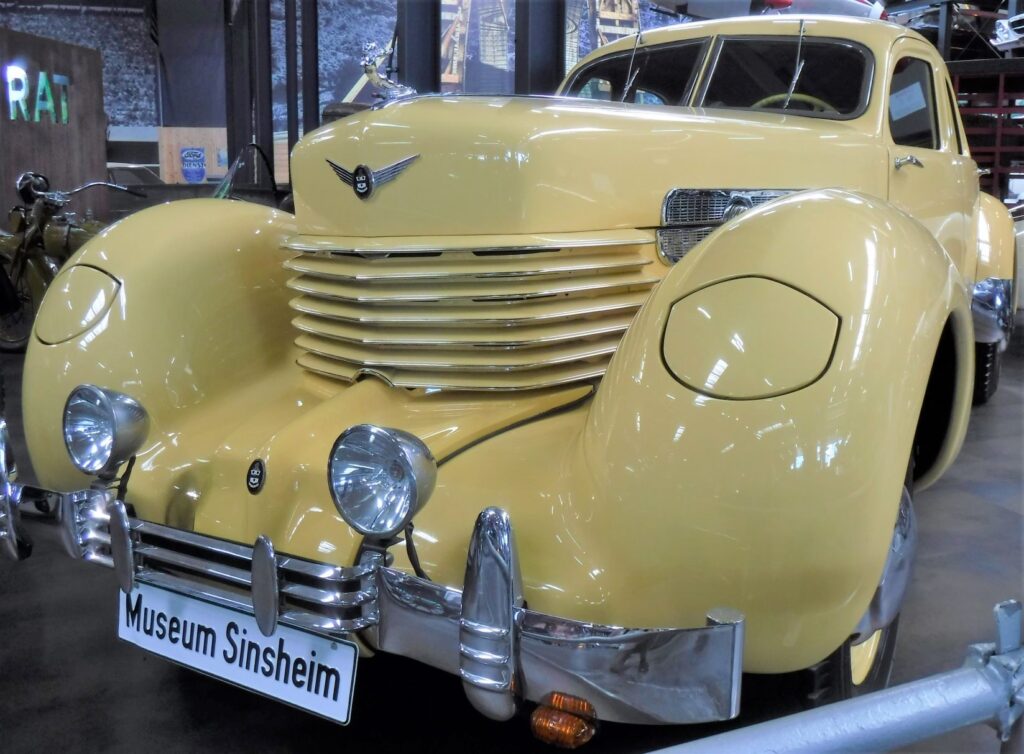 Long suffering readers will know I have a penchant for historic aircraft and vehicles, and will spend hours contentedly poring over exhibits until the cleaners throw me out. When I found out that the grandaddy of all engineering museums was located at Sinsheim near Heidelberg, it wasn't a question of if I would go, but rather for how many days. The Technology Museum Sinsheim's webpage offered this advice: 'For the exhibitions you need between three and four hours. We definitely recommend technology freaks and classic car lovers to plan a whole day for a visit to the museum!' After reading more about the number of exhibits on display, these seemed like gross underestimations to me, so I planned for two days.
After about 40 minutes on the train from Heidelberg I jumped out at the Museum station. From the platform I could see the massive Concorde and Tupolev Tu-144 supersonic airliners displayed on the roof of one of the ever massiver Museum halls. A couple of minutes later and I was at the gate, thinking the place looked more like a huge theme park than a museum.
After buying my ticket I entered, and like a puppy in a room full of tennis balls, I got a bit overwhelmed and didn't know which way to go first. It seemed to make sense to start at the oldest motor vehicle and proceed from there, so despite a vast hall brimming with shiny cars all screaming for my attention, that's what I did.
The oldest motor vehicle in the Technology Museum Sinsheim is considered by some autonuts as the oldest practical automobile. It was designed and built by Carl Benz – name sound familiar? – in 1886. It's interesting what was considered practical in 1886 and the demands of practicality in the modern era of motoring.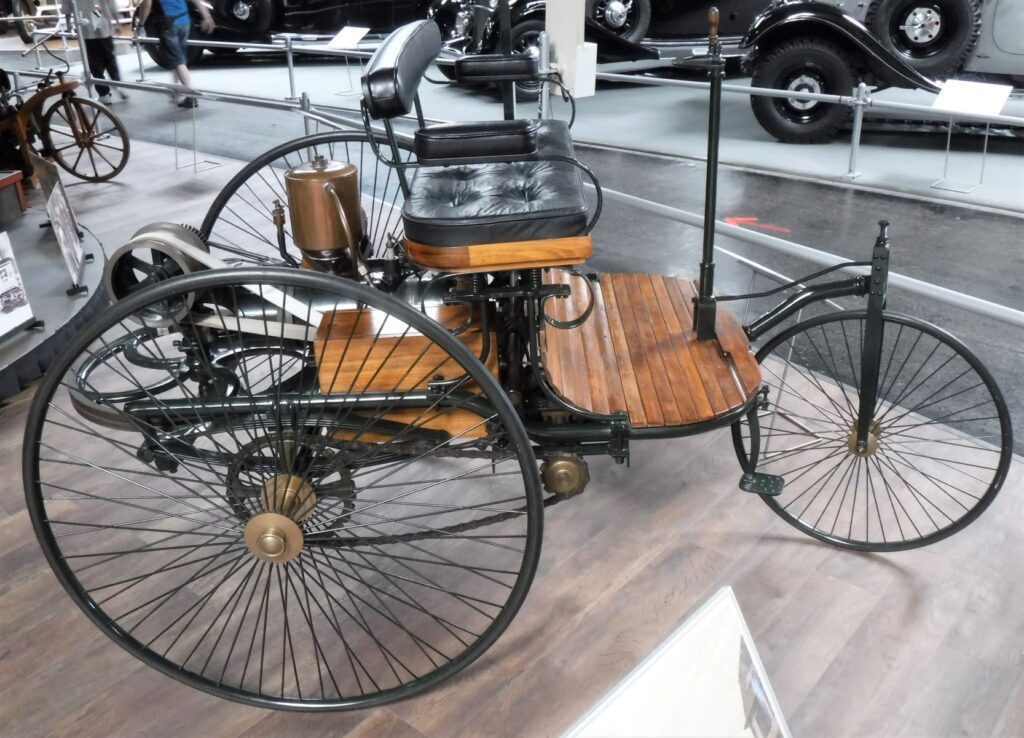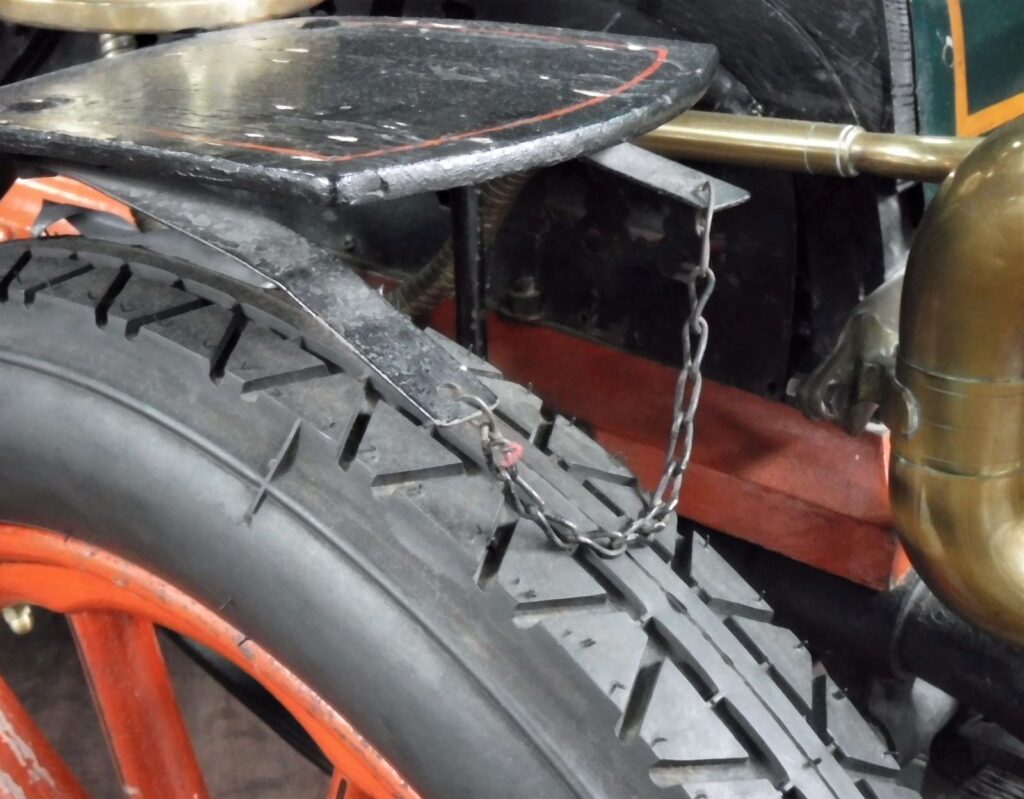 The early days of motorised transport saw the roads shared by both mechanised and horse-drawn vehicles, in what can only be imagined as a chaotic and potentially catastrophic mix. This 1898 Mores A had dinky chains attached to the front guard to remove pesky horseshoe nails.
One of the first French automobiles was the Peugeot Vis-a-Vis, released in the 1890s.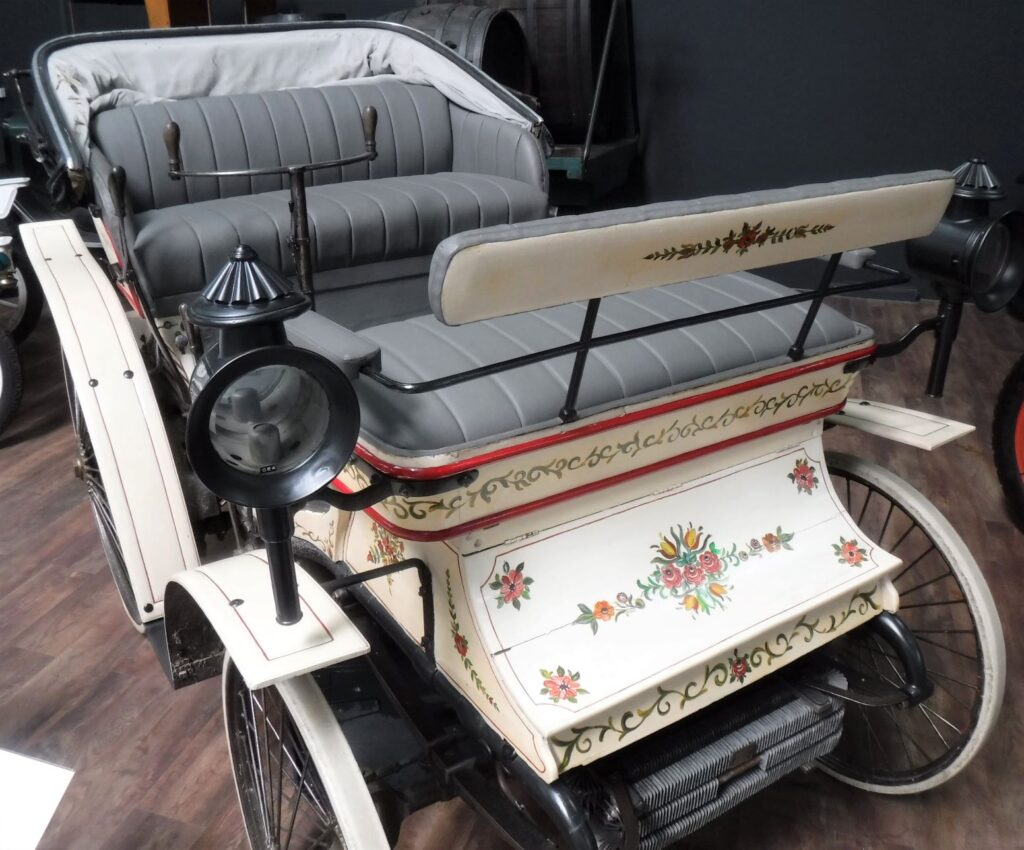 The name comes from the seating arrangement, which had the occupants sitting face-to-face (hence Vis-a-Vis). Nowadays this configuration would most likely be frowned upon.
This 1907 Maurer truck was fitted with a 2-cylinder engine, and topped out at 25km/h. Since it would therefore take forever to get anywhere, it was fitted with a state-of-the-art sound system to while away those long country miles.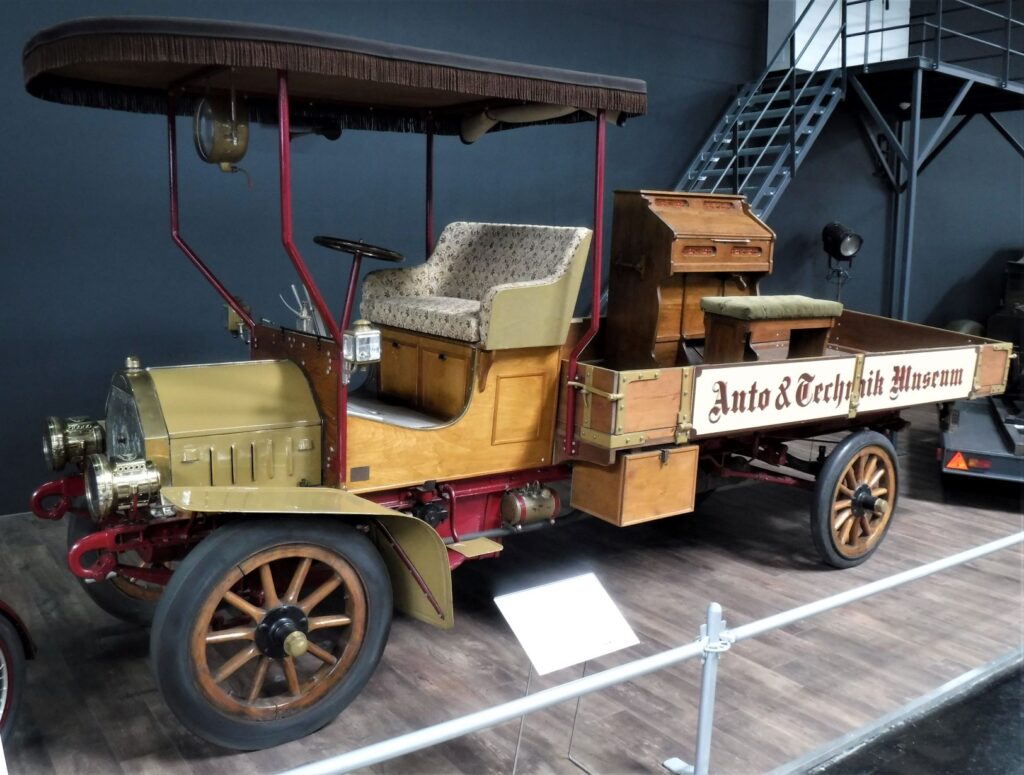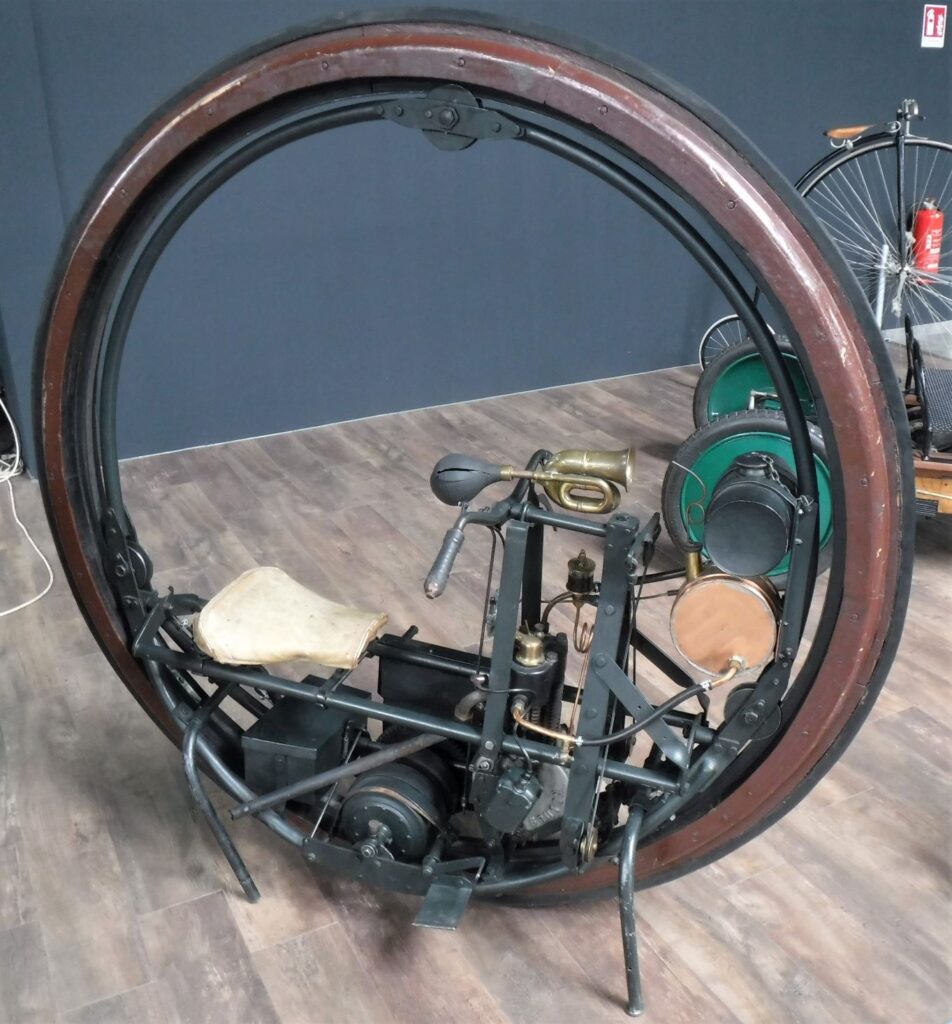 For reasons unclear, a bloke called Erich Edison-Puton decided to build a motorised monocycle in the early 1900s. For reasons patently clear, it failed to sell. The Museum's example is still in running order, as evidenced by this footage. And I don't blame you mate, I wouldn't put my feet up on the pegs either.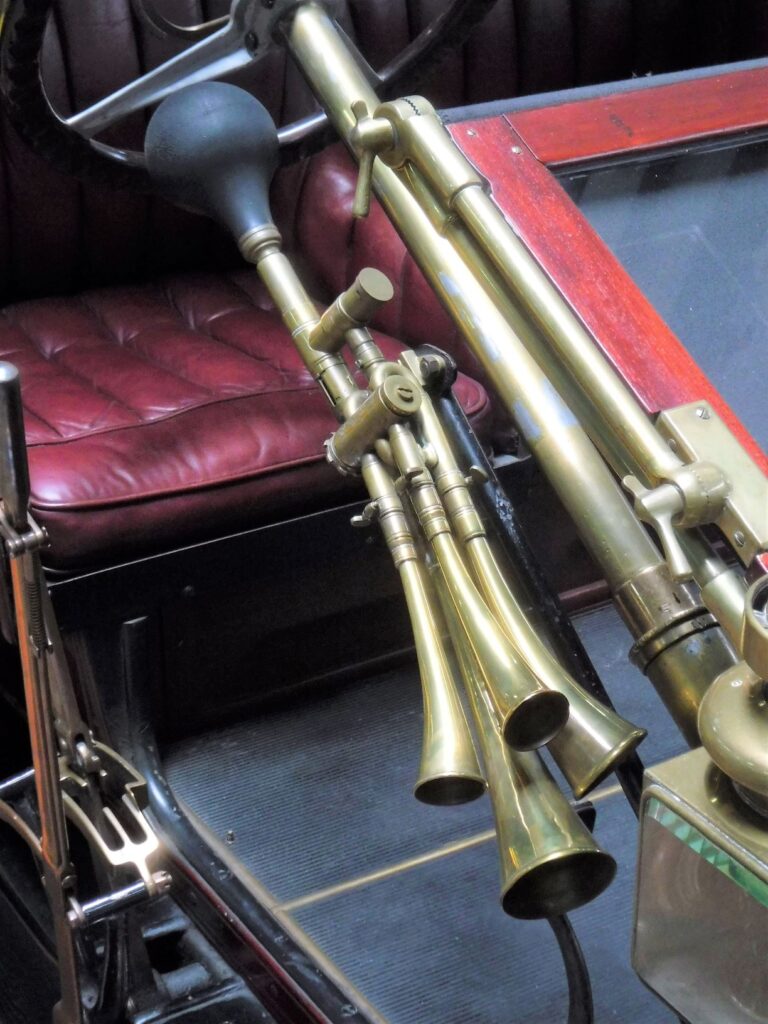 The 1909 Mercedes Simplex was an engineering trendsetter. According to the Museum, 'It was the first car with front engine, rear wheel drive, radiator, pedals and steering wheel'. I think it's safe to say all of those features really took off.
The Simplex cost squillions, and didn't just have a horn, it was fitted with an entire brass band.
Boasting a suite of contemporary furniture, the Technology Museum Sinsheim's 1913 Audi E is believed to be the second oldest Audi in existence. Rumour has it that the oldest Audi was fitted with even more seating, and after having been mistakenly placed in the owner's lounge room by the removalists, has remained there ever since.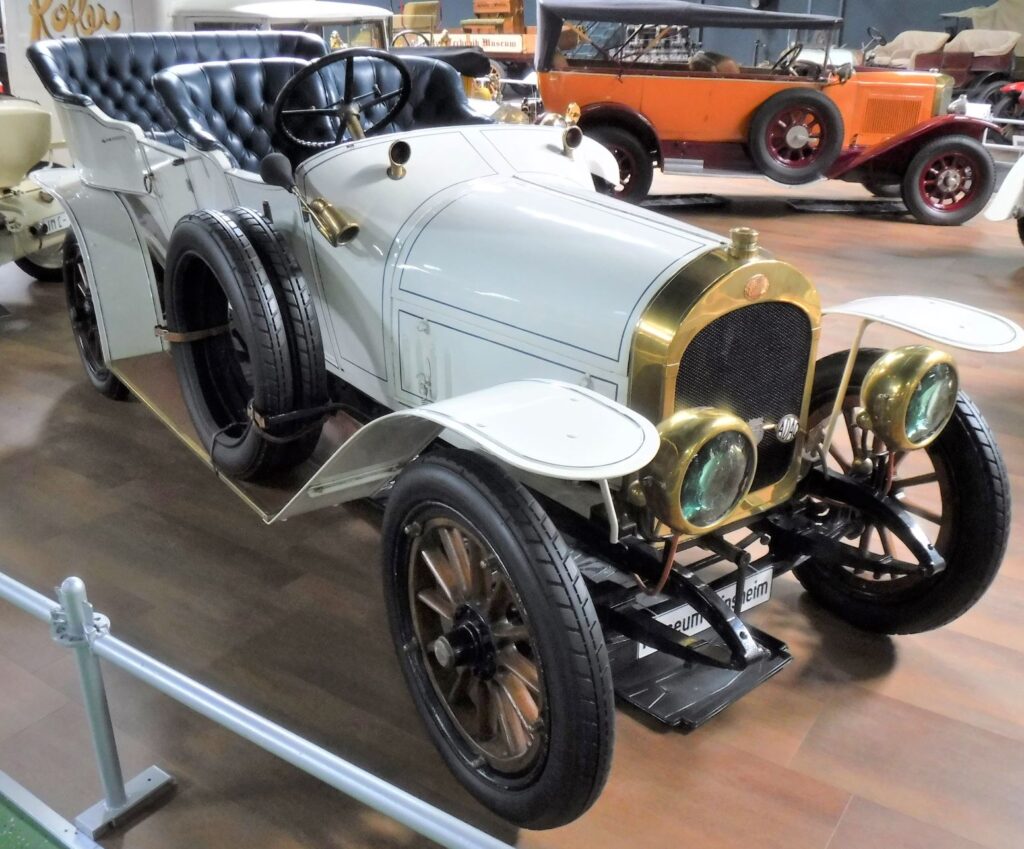 Talking of Audis, here's a little trivia for you. August Horch founded an automotive company in 1899, and being a modest kind of bloke, named it after himself. In 1909, after a blue* with the directors, August took his spanners and started a new company. He wasn't legally permitted to use his name 'Horch' for the new set up, so had to find a new title. Apparently the 10 year old son of one of his mates suggested he translate the word horch, which means 'listen' in German, into Latin, which is audi. August's first reaction to the suggestion was probably a curt 'When spoken to!', but must have had a think about it later and decided the young bloke was onto something.
In the olden days of motoring, it was common for the chassis and engine of the car to be built by one automotive company, and a seperate 'coachbuilder' would add the body.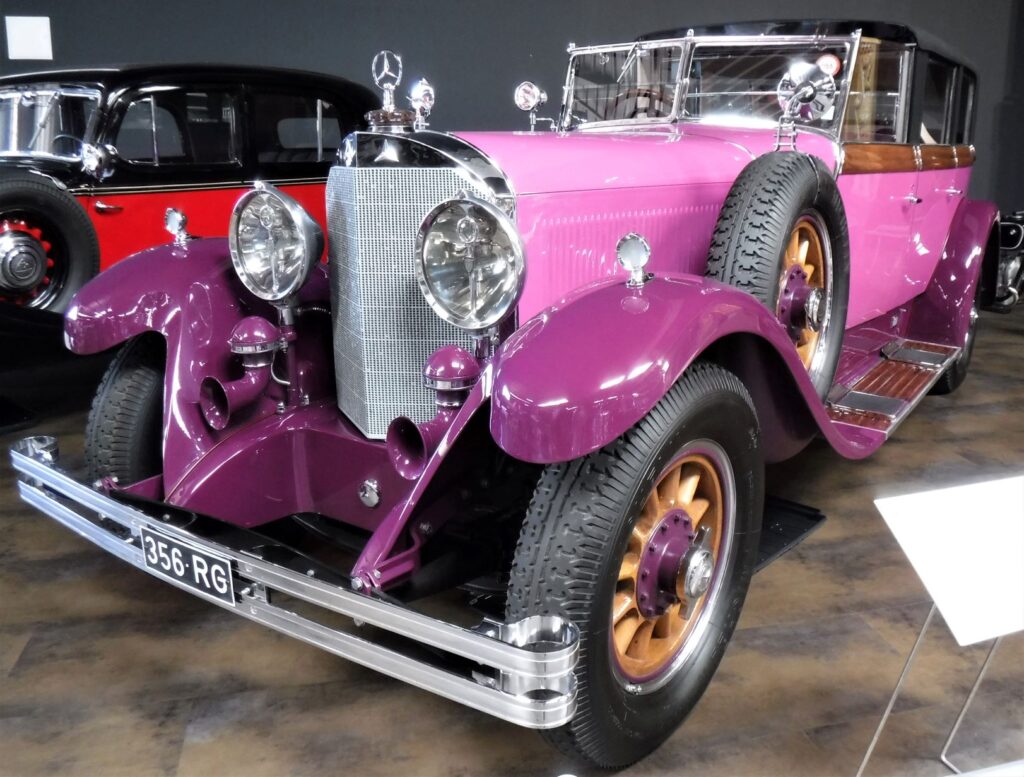 In the late 1920s, when most cars appeared in subdued tones, the Saoutchik coachbuilding company provided the body for this Mercedes Benz 630. Would have turned a few heads, I reckon.
Although there is predominately German engineering on display at Sinsheim, there are also a selection of British cars, including serveral Rolls Royces. One particularly striking display is this 1933 Rolls Royce Phantom II. Apparently it was shipped to British East Africa (now Kenya) back in the day, where the original body was replaced with this 'Boattail' by a local boat builder. (It's interesting to note that at various times in the past it has been trendy to build cars that look like boats, aeroplanes and rockets, but never the other way around. Intriguing.) Although tigers aren't actually found in Africa, it does give the display a suitably exotic feel.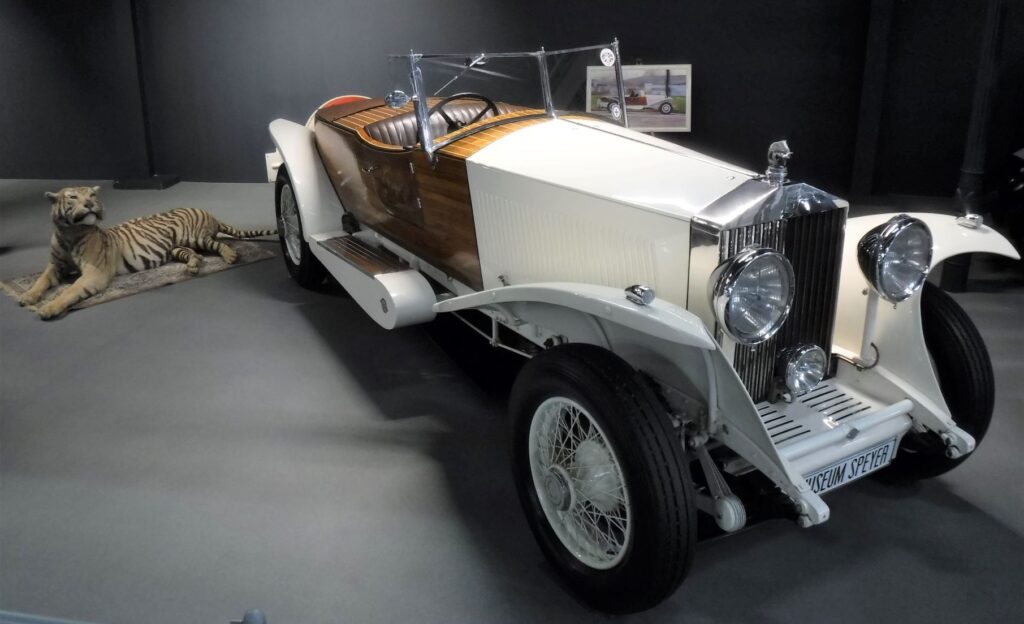 The Museum also displayed some beautiful Bugattis. The history of the marque is a real international affair, with an Italian founder setting up shop in Molsheim, Germany, which after World War One became Molsheim, France. Bugatti motorcars didn't just look great, they were also hugely successful on the racetrack.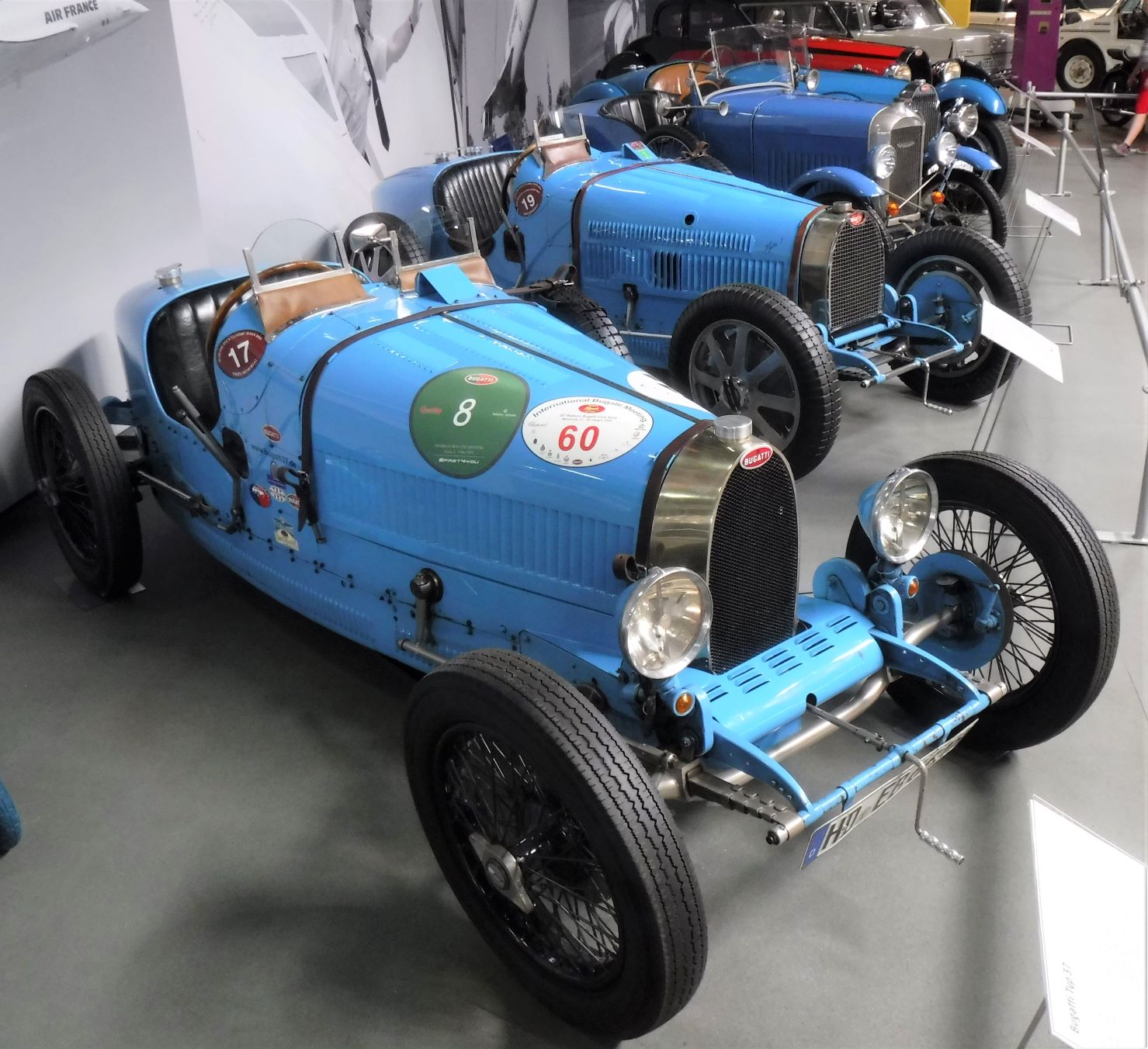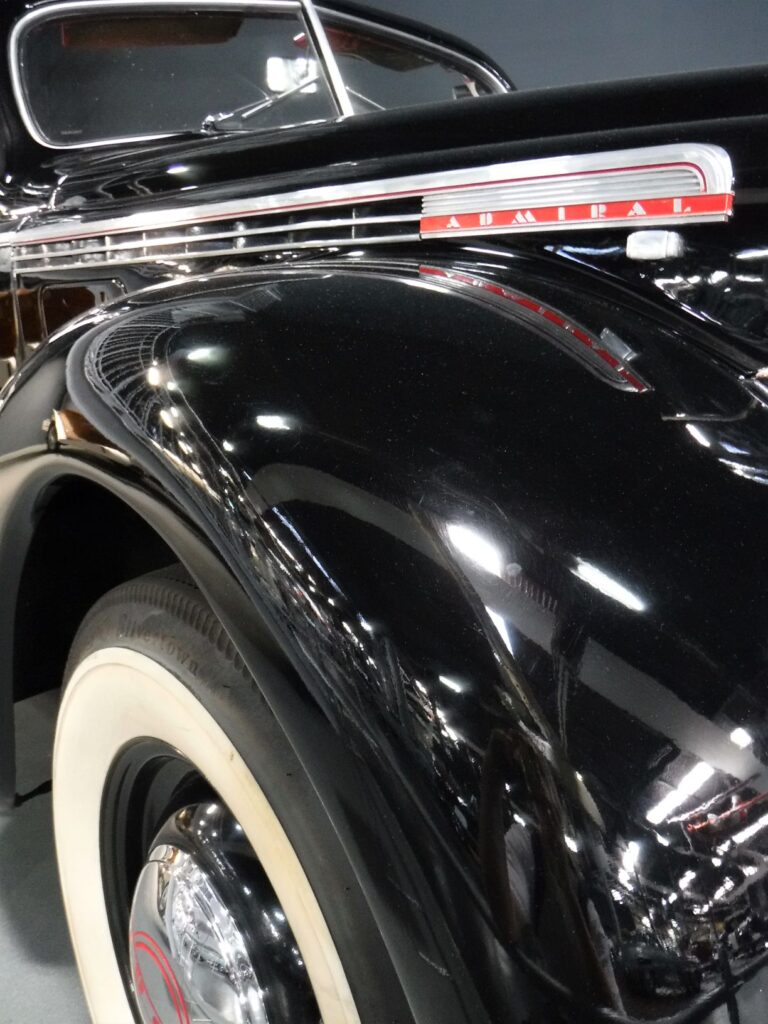 Motorcar design often reflects the greater style of the times, and there's a nice touch of Art Deco in this 1930s Opel Admiral.
The Technology Museum Sinsheim had quite a collection of cars from the Nationalist Socialist era, including this massive three-axle 1938 Mercedes Benz G4. The Museum explains that this particular vehicle was used by Nazi leaders in Austria and Czechoslovakia.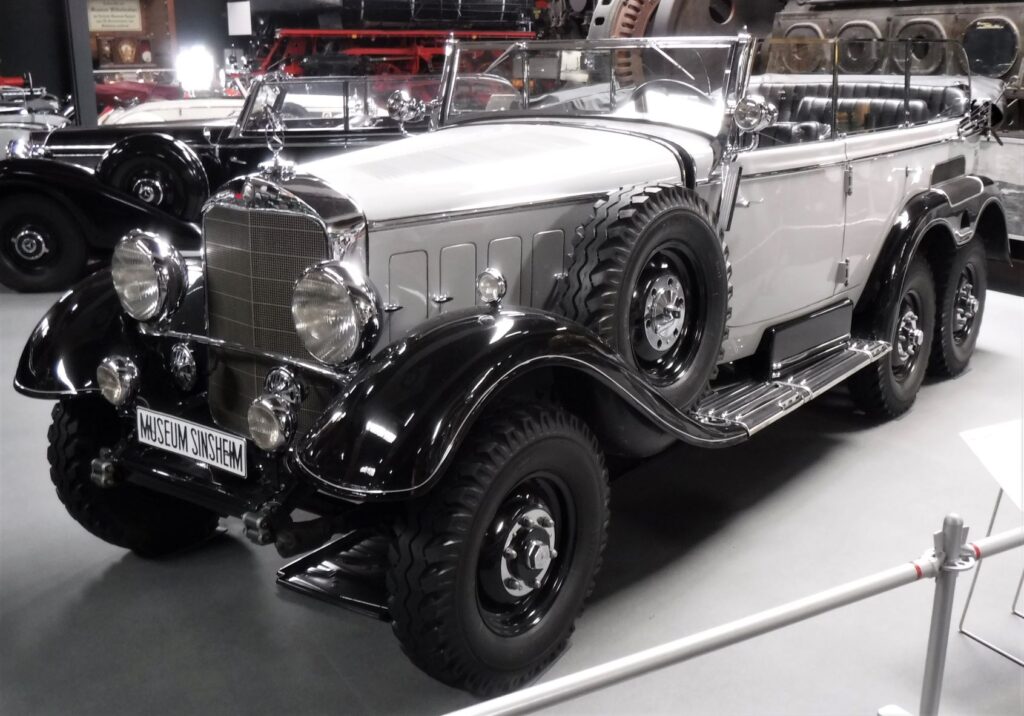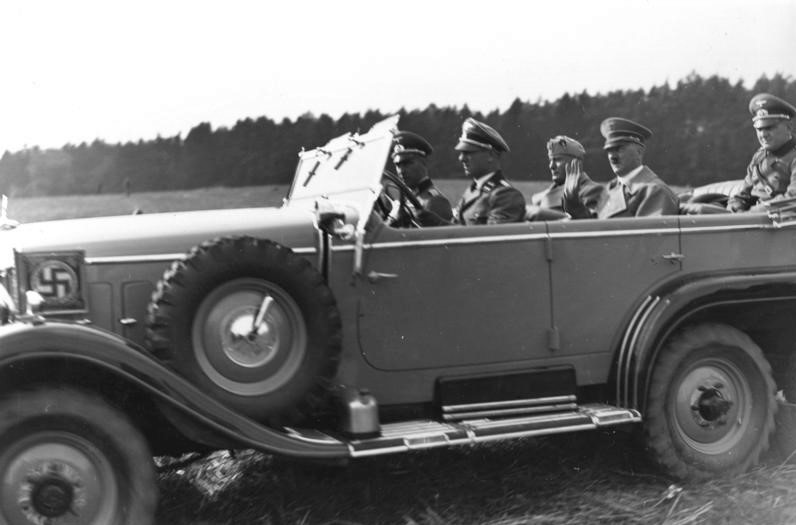 The G4 was the vehicle of choice for Hitler and Mussolini for both street parades and field trips.1
On a lighter note, the Museum's American Dream Cars display was an extravaganza of fins and chrome. And with a tailful of fins and a mouthful of chrome, nothing says late 50s styling like the Cadillac Eldorado Biarritz.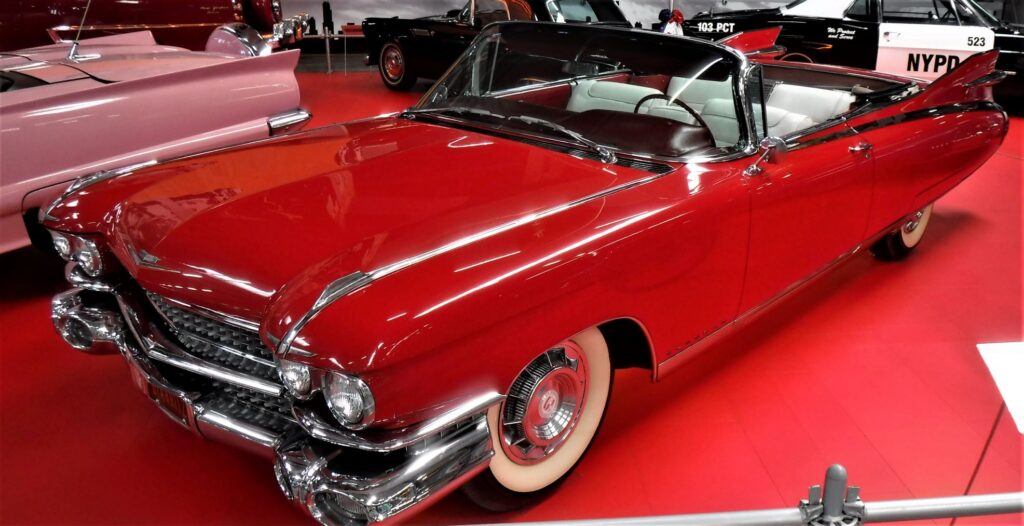 At over five metres in length, the 1959 Ford Fairlane 500 Skyliner has a boot so big it not only fits a spare wheel, but an entire spare car.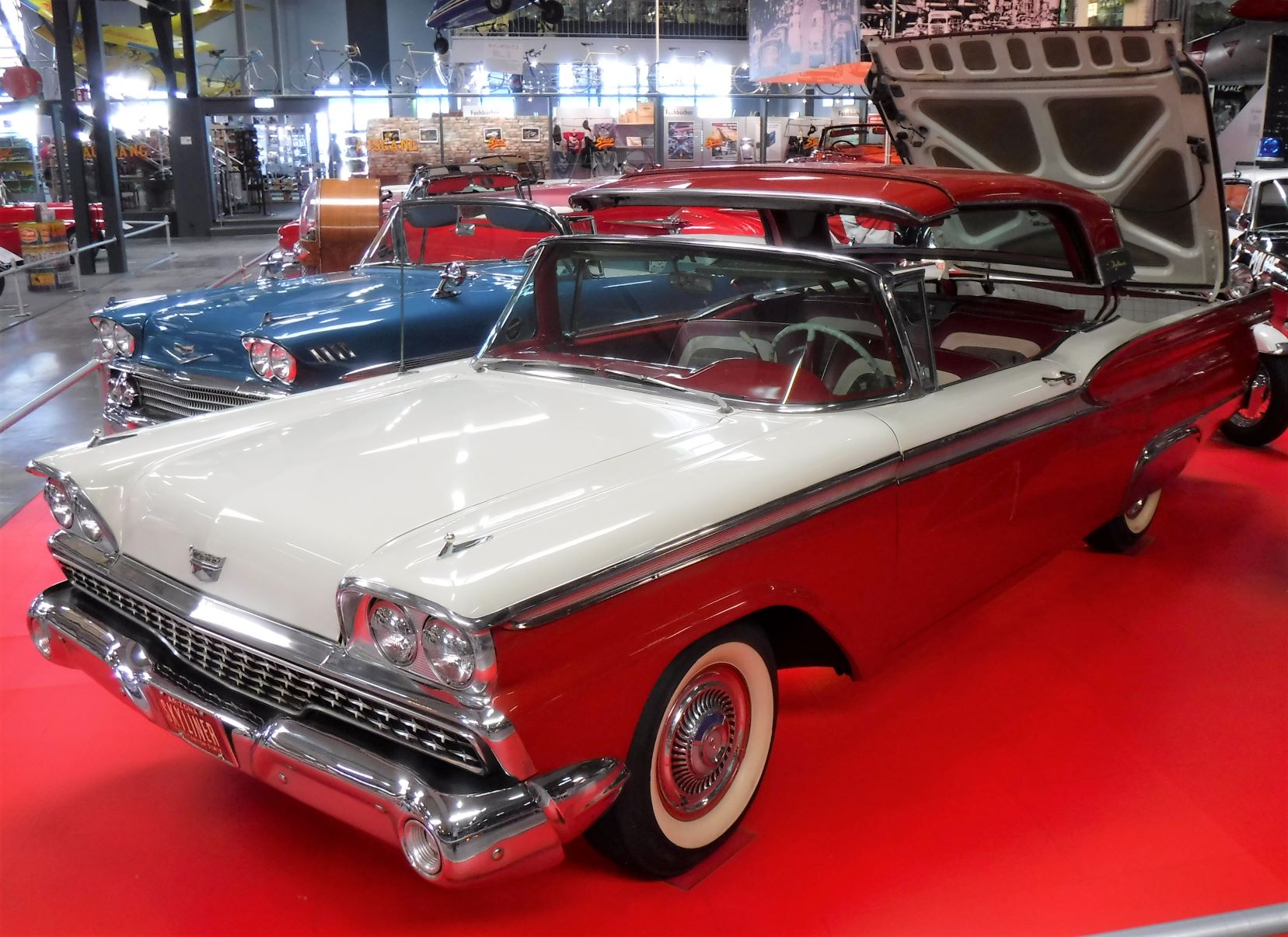 In amongst the Thunderbirds, Corvettes, and Mustangs, there were also a couple of hotrods on display. This 1930s Model A Ford, fitted with a 5.7 litre Chev V8, was an absolute ripper.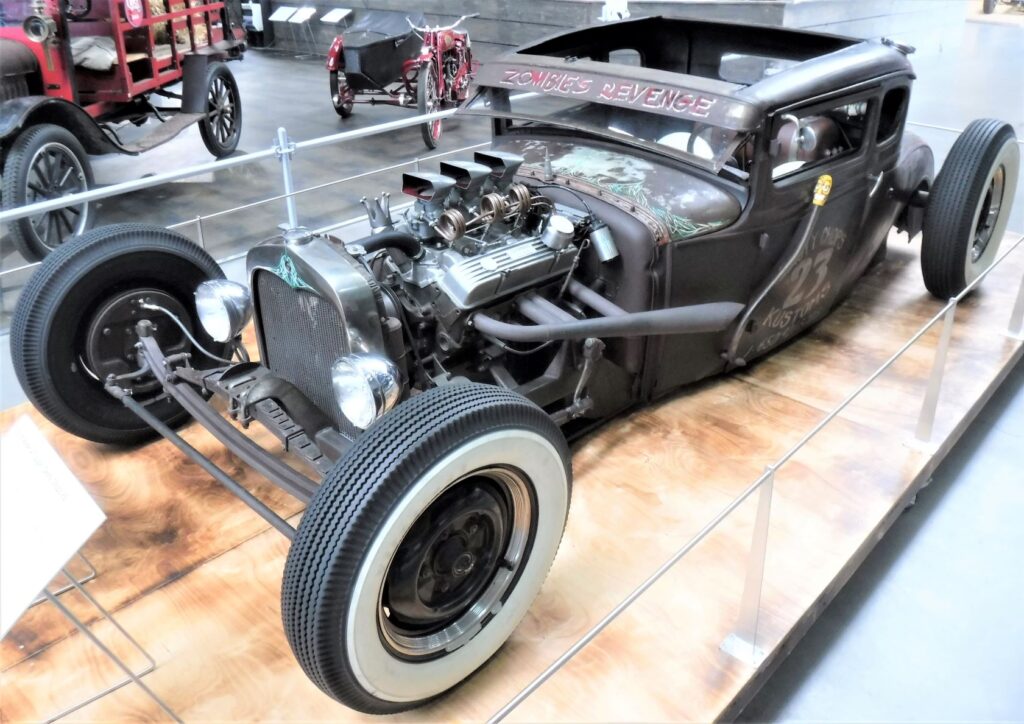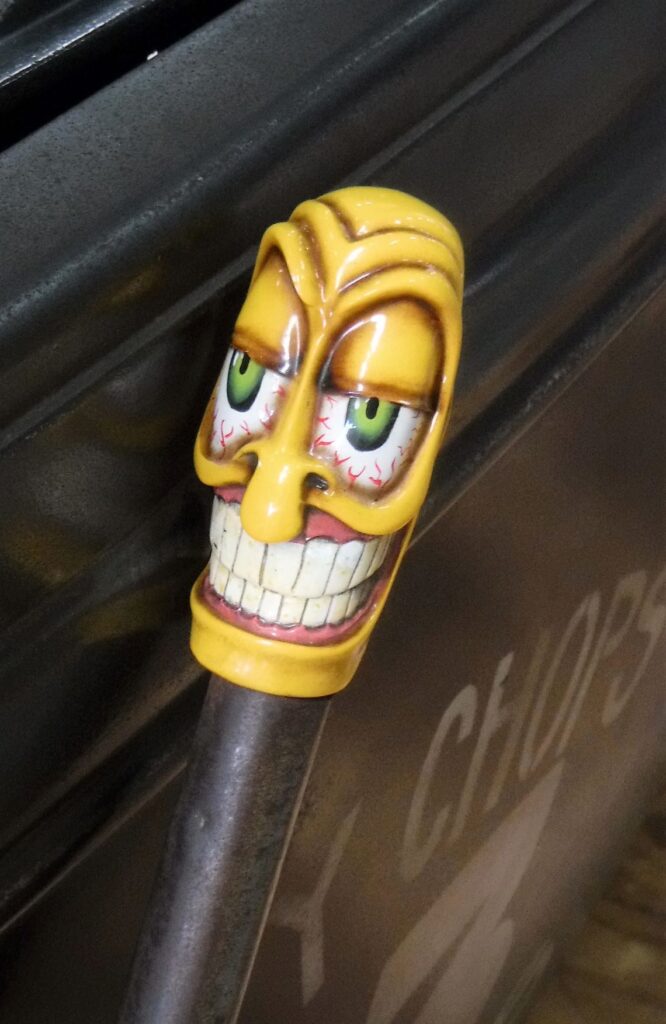 Along with vintage treasures, high performance racers, and extravagent automotive style statements, the Technology Museum Sinsheim also included a display of microcars. These cheap and cheerful tiny vehicles aimed to get people moving for minimum outlay and running cost. Amongst the collection was several Goggomobiles.
In Australia, there's a whole generation of people that will remember this TV ad for a telephone directory (for younger readers, before mobiles we had phones that plugged into a socket in the wall, and when you wanted to find a phone number you looked it up in a big thick book called a 'telephone directory'. No, really).
This ad, and the bloke in it (the late Tommy Dysart) became legend, with millions of Aussies nation-wide saying 'Gee Ohh, Gee Gee Ohh!' to each other and then dissolving in hysterics.
Here's the 'wee ripper' itself, the 1959 Goggomobile Limousine. Perhaps not the type of vehicle that immediately springs to mind when you hear the term 'limousine', this tiny car was produced by the Hans Glas Company in the wonderfully named German town of Dingofling.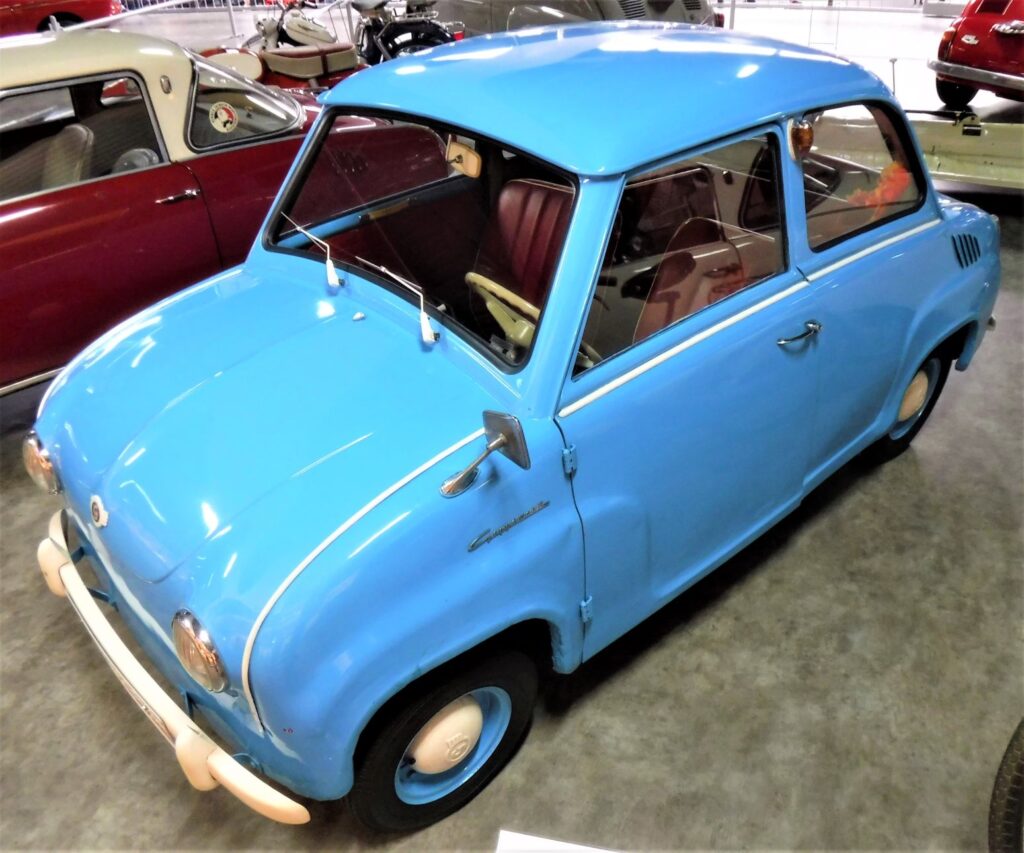 According to the Museum, 'Goggo' was the pet name of one of the grandchildren of the company owner Hans Glas', so when it came to naming the cars, 'Goggomobile' was it. Tell me that didn't have an impact on all his other grandkids. Interestingly, an automotive firm in Sydney built various Goggomobil models under licence in Australia from 1957-61.
My two days of exploring the massive collection at the Technology Museum Sinsheim was drawing to a close, and eventually I heard the dreaded announcement that the Museum would soon be closing and could I please make my way towards the exit. For the last hour I had been triaging the exhibits I had still yet to see, wishing I had another couple of hours up my sleeve to really do the place justice.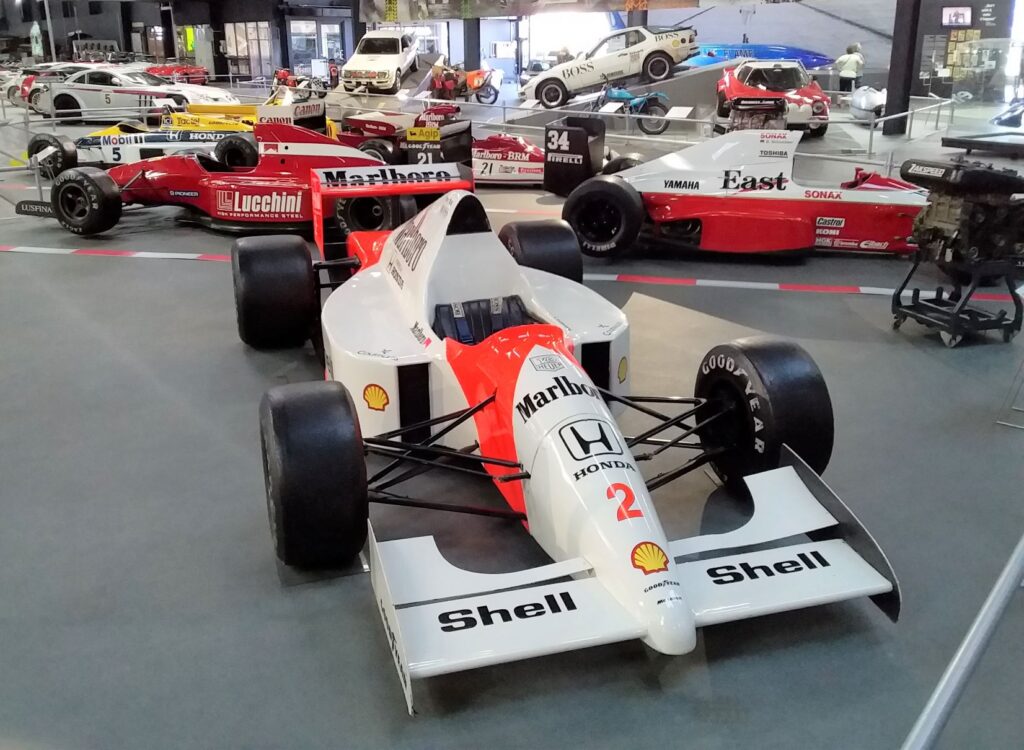 The Technology Museum Sinsheim isn't just about cars; it also contains a huge collection of aircraft, military vehicles, tractors, steam locomotives and a whole bunch of other stuff. If you have an interest in historic machines, and find yourself in south-west Germany, be sure to put aside a couple of days and visit this extraordinary place.
*blue – Australian slang for a fight
1photo sourced from Hitler Archive – A Biography in Pictures, Bundesarchiv – Bundesarchiv, Bild 136-B3542
Visit the Technology Museum Sinsheim here
If you liked this post, you may also like The Trabant, Hellenic Motor Museum
Know someone who might like this post?