2020 New Zealand Election
2020 New Zealand Election
On the Hussle and Hustings
Well there's big mobs of rough stuff
And slingin' of bulldust
As it draws close to election day, mate
Kiwis head to the polls on October 17, and campaigning is ramping up here for the 2020 New Zealand Election. The original polling date of September 17 was abandoned due to Covid-19 not giving both ruckmen a clear run at the ball. The two major parties that will take the lion's share of the votes are Labour (the Kiwis have left the 'u' in Labour) and the National Party.
Oh they're all really tryin'
And most of em's lyin'
To get us to vote for them, 'ey mate
The Labour Party is lead by the very popular Prime Minister Jacinda Ardern. Her opponent Judith Collins is the newly elected skipper of the National Party (or, alternatively, the Titanic). A poll last week put Ardern at 54% for preferred prime minister, with Collins gathering just 18% support. Similarly, Labour has a substantial lead in the party vote.
Discussing the finer points of policy with Jacinda. She is taller than I expected
New Zealand also has a bunch of minor parties; 15 to be exact. New Zealand First, and its 75 year old warhorse Winston Peters, are coalition partners with Labour in the current government. Labour also relies on Green Party support for the government to function.
They're gonna halt this inflation
And fix up our nation
If they only did half what they say, mate
Of the more minor minor parties, Advance New Zealand is the standout for fringe-dwelling wackiness. It's co-leader Billy Te-Kahika is a real man of the times. He reckons the UN is behind Covid-19, is an anti-vaxer, and wants to take fluoride out of the water. Now there's a rational man on the right side of history.
Yeah those spruikers are tireless
That you hear on the wireless
With big mobs of nothin' to say, mate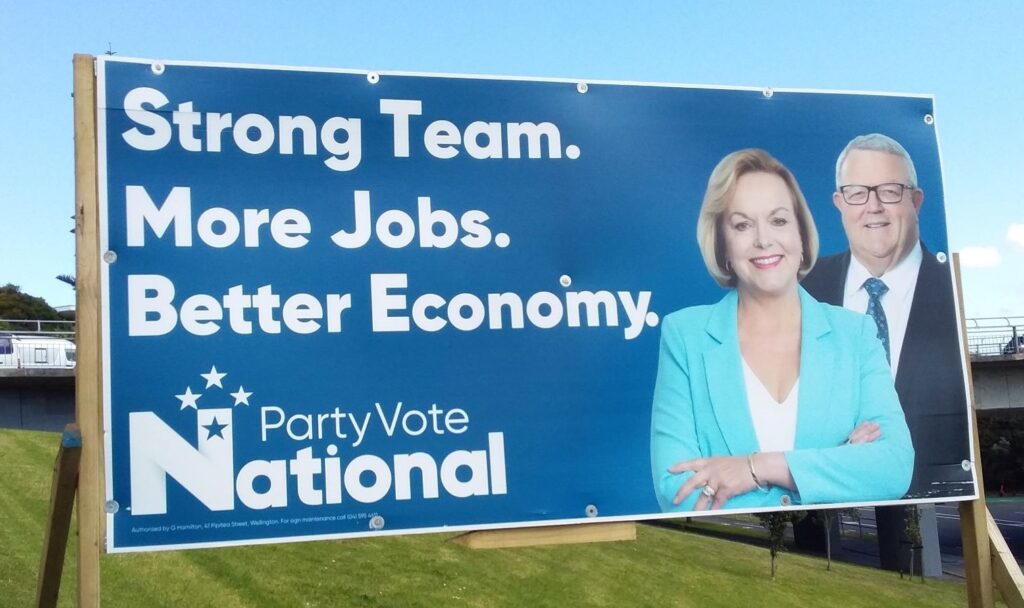 Not only do Kiwis have to ensure they vote for anyone but Billy Te-Kahika, they also have a couple of referenda to decide on. Voters will be asked if they support a voluntary assisted dying bill for the terminally ill, and whether they believe recreational cannabis use should be legalised.
We would all be in clover
The whole country over
They're real full of promises, 'ey mate
Even though Labour are tipped to win in a canter, there is still plenty of feeling in the community with regards to the election. Although New Zealand suffered comparatively few Covid-19 cases, shutting down the nation during the height of the outbreak has had significant economic impact. Arguments about how best to manage economic recovery, plus the sensitive nature of the referenda, will ensure the jandals are flying at the 2020 New Zealand Election on October 17.
But we'll vote for some smarty
That's leadin' some party
And hope that she (sic) does something, 'ey mate
Lyrics: 'Election Day' by Slim Dusty
If you enjoyed this post, you may also like Jacinda over to Australia, Bumper Stickers and National Heroes
Know someone who might like this post?